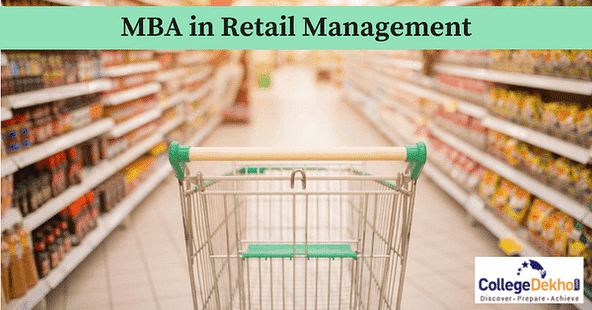 Retail management is one of the most flourishing industries in the country today. It is defined as the process of successfully bringing the customer to the store and fulfilling his/her needs. With the globalization hitting the market, there has been a phenomenal change in the way retail now works in the country. Retail management focuses on the study of retail businesses. It also focuses on the managerial skills and qualities to make aspirants future-ready for the ever-changing retail market.
Earlier, retail management was limited to grocery shops, singular garment outlets and now to huge malls, supermarkets, and marts. Not only has this made shopping effortless, but has also created new employment opportunities such as brand manager, product manager etc.
Although there are many undergraduate courses in the management field which you can pursue such as Bachelor of Business Administration (BBA), Bachelor of Business Management (BBM) etc. to start your career in the field, pursuing an MBA in Retail Management specifically will equip you with skills and traits that employers look for while hiring retail managers or store managers. Learn in detail about MBA in Retail Management below.
What is MBA in Retail Management?
Let's take a quick look at what MBA in Retail Management is all about
Name of the Programme
MBA in Retail Management
About the Programme

MBA in retail management is a study of brand marketing, production strategy and dynamics of the retail.

Popular Areas of Study

Accounting
Communication
Financial Management
Merchandising
E-Retailing
Economics
Branding
Consumer Behaviour
Fundamentals of Retailing

Fees

Annual fees for MBA in Retail course can vary from Rs. 3 lakh - Rs. 20 lakh. Fees for an MBA programme is comparatively less than PGDM.

Selection Criteria

Selection is based on grades in bachelor's degree and MBA entrance exams such as CAT, CMAT, SNAP, MAT etc. conducted/accepted by the respective universities.

Duration
2 years
MBA in Retail Management: Eligibility Criteria and Admission Process
Listed below are the eligibility criteria for MBA in Retail Management:
You should have completed your graduation in any discipline with at least a 50% aggregate marks.
Admissions to the master's programme are based on CAT,MAT,GMAT, XAT, SNAP, and other management entrance exams.
Based on your MBA entrance exam score and the corresponding cut-off for different MBA in Retail Management colleges, you are further required to take part in the group discussions, viva voice, written ability test and personal interview.
MBA in Retail Management: Required Skills
What are the skills required for pursuing MBA in Retail Management? Find out here
The ability to provide customers with a great experience is one of the foremost qualities that is looked for by a recruiter.
Good communication skills and effective time management are equally important in the retail industry.
If you can empathize with the customer and understand his/her needs after careful assessment, you can emerge as a good retail manager.
Top Colleges Offering MBA in Retail Management in India
CollegeDekho has made a list of the top MBA in Retail Management colleges in India. Take a look at the colleges:
Candidates who wish to take admission to MBA in Retail Management colleges in India can fill-up the Common Application Form (CAF) and enjoy a hassle-free application process for top management colleges in India.
MBA in Retail Management Subjects
Students planning to pursue an MBA in Retail Management can have a look at the courses they would be studying in the course duration.
Year

Subjects

First Year

Principles of Management & Organisational Behaviour

Managerial Economics

Marketing Management

Operations Management

Corporate Communication

Accounting & Finance

Human Resource Management

Quantitative Techniques of Management

Management - Research Methods

Second Year

Strategic Management

Business Management

Buyer Behavior

Retail Planning

Business Environment & Ethics

Retail Sales Techniques

Direct & Network Marketing

Logistics & Sales Promotion
MBA in Retail Management: Job Opportunities
The various job opportunities which one can look forward to after pursuing MBA in Retail Management are as follows:
Professionals with an MBA in retail management degree can apply for both government and private jobs.

There are a large number of jobs available in MNCs.

You can apply for jobs roles like:
MBA in Retail Management: Top Recruiting Companies
Many leading retail chains require the services of candidates who have an MBA degree in Retail Management. Top recruiting companies of hire postgraduates for tasks such as retailing and marketing at the store level or at managerial positions in their corporate offices. Given below are some of the top recruiters of candidates after MBA in Retail Management.
MBA in Retail Management Salary
The salary for professionals who have an MBA in Retail Management is as follows:
After pursuing an MBA in Retail Management, the average salary offered to candidates usually lies between Rs.4 lakhs - Rs.7 lakhs per annum. It is important to note that the salary packages may vary as per industry trends and the type of organization you are working for or the college you have done your studies from.
We hope that this information was helpful, to get more information on an MBA in Retail Management, you may get in touch with our counsellors. As the MBA 2020 admissions are round the corner, all the candidates must be working hard for the MBA Exams to get into their dream colleges.