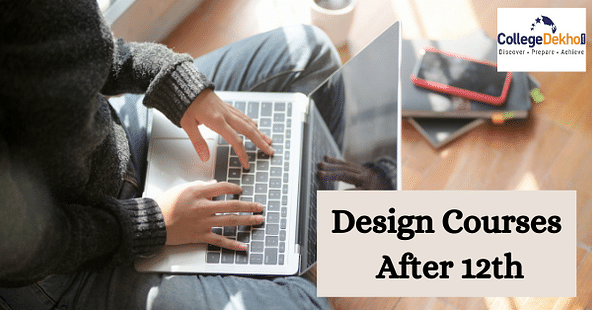 The world is evolving and so are the career options in the field of design. At present, there are countless design courses after the 12th that can be explored and candidates can opt for any desired programme as per their interests. Aspirants can either go for undergraduate or diploma/ certificate level courses in design after class 12th.
Design is a wide stream with various specialisations and students who are confused about which course to choose after class 12th are on the right page. In this article, we have gathered the list of top design courses that can be pursued after class 12th. Also, mentioned below are the eligibility criteria, selection process, skills, entrance exams and top colleges for design courses. Read on, to find out everything about admission in Design Courses After 12th.
List of Top Design Courses
Here is the detailed list of top design courses after class 12th in undergraduate and certificate/ diploma level
B Des Degree (4 Years)

B Des in Textile Design

B Des in Graphic Design

B Des in Jewellery Design

B Sc Degree (3 Years)

B.Sc in Fashion & Apparel Design

B.Sc in Game Design

B.Sc in Textile Design

B A Degree (3 Years)

B.A. Animation

B.A. Product Design

B.A. Fashion Design

B.A. Communication Design

BFA in Animation

BFA Applied Art

BVA in Textile Design

BVA in Painting

BVA in Graphic & Communication Design

BVA in Interior & Spatial Design

Diploma/ Certificate (2 Months- 2 Years)

Diploma in Fashion Design

Diploma in Jewellery Designing with CAD

Diploma in Game Designing

Certificate in Jewellery Design

Certificate in Web Designing

Certificate in Graphic Design

Certificate in Textile Designing & Printing
Skills Required to Pursue Design Courses 
Here are a few important skills required to pursue design courses after the 12th.
Good sketching skills

Creative and artistic taste

Good communication skills

Basic understanding of colours, shades, and tones

Sound Visualisation Skills

Keen observation skills

Flexibility

Innovative Approach

Eye for detail skills
Eligibility Criteria For Design Courses 
The eligibility criteria for admission to design courses after the 12th is different in each college. Provided below is a quick glimpse of the general eligibility criteria encountered by the candidates.
Students must have completed 10+2 or its equivalent from a recognized board of education.

There is no specific stream required for admission. Candidates hailing from any academic stream can apply for admission.

The minimum aggregate usually ranges from 45% to 55%. Most of the colleges offer 5% to 10% relaxation to the reserved category candidates.

The upper age limit may be anywhere between 25 to 30 years. Some colleges do not have any age criteria at all.
Selection Process for Design Courses 
Candidates are offered admission to design courses after 12th either through marks acquired in the qualifying exam or as per their performance in the entrance exam organised by the institute.
The entrance exam of design may include any of the selection rounds, namely, written aptitude test, portfolio evaluation, studio round, personal interview or situation test. Candidates need to go through the official website of the desired institute to check out the selection process and prepare for it accordingly.
Popular Entrance Exam for Design Courses 
Enlisted below are the popular entrance exams for admission to design courses after the 12th:
Top Design Colleges 
Provided below is the list of top colleges that offer design courses after the 12th. Candidates can also check out the list of popular private colleges that offer scholarships for design admissions in India:
| College | Location | College Fee (Annual) |
| --- | --- | --- |
| | Jaipur, Rajasthan | INR 1,30,000 |
| | Chennai, Tamil Nadu | INR 80,000 |
| | Gandhinagar, Gujarat | INR 4,50,000 |
| | Delhi, Delhi | INR 4,50,000 to INR 4,68,000 |
| | Jaipur, Rajasthan | INR 80,000 |
| | Noida, Uttar Pradesh | INR 1,53,000 |
| | Greater Noida, Uttar Pradesh | INR 1,85,000 |
| | Jaipur, Rajasthan | INR 3,35,000 to INR 3,95,000 |
| | Bengaluru, Karnataka | INR 2,60,000 to INR 3,60,000 |
| | Faridabad, Haryana | INR 82,500 |
Career Options/Future Prospects after Design Courses in India
Design is a vast stream with a great many career opportunities for everyone. If the candidates are skilled and educated, they can easily get recruited by top companies spread across the world. 
Students with undergraduate, postgraduate or diploma/ certificate courses in design can look for jobs in a variety of areas including marketing & advertising, media houses, colleges/ universities, healthcare, publishing and digital communications to name a few. Freshers can extract an annual salary of around INR 3,00,000 to INR 6,00,000 depending on their aptitude and skill set. After an experience of 3-4 years, they may earn up to INR 12,00,00. The annual salary package keeps increasing with the time and experience of the professionals.
Hope this article solved your queries about the Design Courses After 12th. If not, feel free to write to us in the QnA zone. For any admission related assistance, give us a call at our student helpline number 1800-572-9877 (toll-free) or fill up the Common Application Form. Our admission experts would be glad to help you out!
Stay tuned to CollegeDekho to get more information on Design Admissions in India!