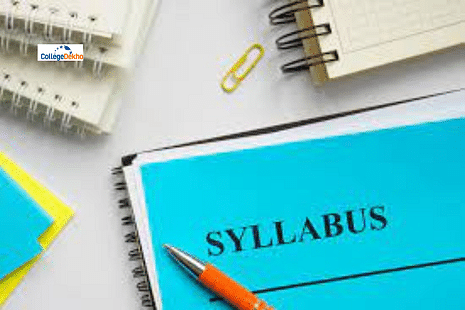 Never Miss an Exam Update
ICSE Class 10 Math Syllabus 2023-24: The Council for the Indian School Certificate Examinations (CISCE) has released the ICSE Class 10 Math Syllabus 2023-24 on its official website. Math is one of the Scoring subjects in the Class 10 Curriculum. However, due to the huge calculations, some students struggle with it. Practice, practice, practice—and nothing else—is the key to getting a decent grade in math. Candidates must thoroughly research each topic in the ICSE Class 10 Math Syllabus 2023–24 and repeatedly go over the material. examine the following topics and subjects included in the ICSE Class 10 Math Syllabus 2023–24.
To ensure acing the examination, you must be completely prepared in all respects i.e. the right knowledge of syllabus, exam pattern, difficulty level of questions, type of questions asked in the papers, etc. How you begin your preparation will determine how you go. In order to prepare for the ICSE 2024 board exams, students should refer to the most recent ICSE Class 10 Math Syllabus 2023–24, which will help them become familiar with the topics/chapters of the course structure. Read the article below to get the details.
Also Check:
ICSE Class 10 Math Syllabus 2023-24 Download PDF
On the official website of CISCE, you can find the PDF for the ICSE Class 10 Math Syllabus 2023–24. Download the ICSE Class 10 Math Syllabus 2023-24 PDF and start preparing for the Class 10 board exam. Below, we have also provided the direct link to the ICSE Class 10 Math Syllabus 2024 PDF download for your convenience.
Download ICSE Class 10 Math Syllabus 2023-24 PDF
ICSE Class 10th Math Syllabus 2023-24
Important topics including Commercial Math, Algebra, Geometry, and Trigonometry are covered in the ICSE Class 10 Mathematics Syllabus 2023–24. On this website, students can obtain a chapter-wise distribution of the ICSE Class 10 Mathematics Syllabus for 2023–2024. For reference, we have also provided the detailed syllabus below.
Chapters

Sections

Commercial Mathematics

(i). Goods and Services Tax (GST) 

Calculating taxes, including issues with discounts, list prices, profits, losses, and basic/cost prices, as well as inverse scenarios. The price paid by the consumer after paying State Goods and Service Tax (SGST) and Central Goods and Service Tax (CGST) is also required of candidates.

(ii). Banking

(iii)Shares and Dividends

(a) Face/Nominal Value, Market Value, Dividend, Rate of Dividend, Premium. 

(b) Formulae Income = number of shares rate of dividend  FV.  Return = (Income / Investment)  100. Note: Brokerage and fractional shares not included.


Algebra

(i) Linear Inequations 

Solving: Linear equations with one unknown for x = N, W, Z, and R. Using algebra and putting the answer in set notation.  Solution representation on a number line. 
(ii) One-variable quadratic equations 

(a) Nature of roots  

If b2 - 4ac > 0, there are two distinct real roots.  

If b2 - 4ac = 0, there are two equal real roots.  

No real roots if b2 - 4ac 0

(b). How to solve quadratic equations  

(c) Solving simple quadratic equation problems. 

(iii) Ratio and Proportion 

(a) Proportion, Continuation, and Mean Proportion 

(b) Properties that combine to form compounds, dividends, alternations, and inversions. 

(iv) Factorisation of polynomials: 

(v) Matrices 

(vi) Arithmetic and Geometric Progression  

Finding their General term.  

Finding Sum of their first 'n' terms.  

Simple Applications. 

Geometry

(vii) Co-ordinate Geometry 
(a) Similarity conditions of similar triangles, similarity.

(i) Comparison with congruency, using proportionality as the crucial word.

(ii) The SSS, SAS, and AA three conditions. Simple examples (evidence not provided).

(iii)Applications of Basic Proportionality Theorem.

(b) Circles
Angle Properties (i)An arc's angle at the center of a circle is twice as large as its angle at any other point on the rest of the circle.

Angles within a single circle segment are equal.

A right angle exists in a semicircle.

(ii) Cyclic Properties

A cyclic quadrilateral's opposing angles are supplementary.

A cyclic quadrilateral has an exterior angle equal to its opposite interior angle.

(iii)Tangent and Secant Properties

(iv). Constructions

Mensuration

Solids' cylinder, cone, and sphere areas and volumes.

Right circular cylinder, right circular cone, and right circular sphere are three-dimensional solids. Volume and Area (total surface area and curved surface area).

Cost issues, inner and outer volume issues, melting and recasting issues, and more are direct application questions.

a technique for calculating a new solid's volume or surface area. solid mixture is added.

Problems with Frustum are not included, please note.

Trigonometry

(a) To demonstrate the validity of the following basic algebraic trigonometric expressions: sin2A + cos2a = 1 1+tan2a = sec2a 1+cot2a = cosec2a; 0 A 90°

(a) Heights and distances: Using trigonometric tables, solve 2-D problems involving angles of elevation and depression.

Note: Cases involving more than two right angled triangles excluded.

Statistics

Basic statistical concepts: Mean, Median, and Mode.

Ogive and histogrammes.

a. Calculation ofMean*, median class, and modal class for grouped data (only continuous data) are measures of central tendency.

* Mean by all 3 methods included:

(b) Graphical Representation. Histograms and Less than Ogive.

Finding the mode from the histogram, the upper quartile, lower Quartile and

median etc. 

• Calculation of inter Quartile range.

Probability 

Random experiments, Sample space, Events, definition of probability, Simple problems on single events
ICSE Class 10 Math Syllabus 2023-24 - Exam Pattern
Candidates who are going to take the 
ICSE class 10 Board Exams 2024
must be familiar with the ICSE Class 10 Math Syllabus 2023-24 as well as the Question paper design. The ICSE Class 10 Math Question paper's key highlights are added below.
There will be one 80-point, two-and-a-half-hour paper and one 20-point internal assessment.
Section I (40 points) and Section II (40 points) will be the two sections of the exam.
There will be short answer questions that are required for Section I.
Section II: Candidates must answer four out of seven questions.
Students preparing for the class 10 should also solve the model papers or previous year papers during the time of final preparation. This will help them to understand the exam pattern as well.