Never Miss an Exam Update
GSEB SSC Syllabus 2022-22 Overview
On the official website, gseb.org, the Gujarat Board publishes the GSEB syllabus for the 10th class exams. Gujarat board follows the NCERT syllabus, therefore, students can also follow NCERT books to prepare for the exam. The subjects that need to be covered in Gujarat board class 10 are English, Hindi, Maths, Science, Social Science, etc. Students must note that the marking scheme of the Gujarat board class 10 syllabus is that each subject will have a maximum score of 100 marks and each exam requires 33 qualifying marks to be scored to pass the exam. Students may check GSEB SSC timetable 2023 before checking the syllabus.
The Gujarat Secondary and Higher Secondary Education Board (GSEB) conducts SSC exams for Class 10 students every academic year. Students who pass the Gujarat Class 10 exams will be promoted to the next level. This year's Gujarat Class 10th examinations are estimated to attract approximately 11 lakh students. To understand GSEB SSC syllabus 2022-23 and GSEB SSC exam pattern students can go through the article below. 
GSEB SSC Syllabus 2022-23 Highlights
The syllabus is available for download from the GSEB website. The grading system and syllabus are both provided, which makes it easier for applicants to prepare for the board test. The 2023 Gujarat SSC curriculum will be made available as PDF files. On the home page of the official website, under "
Academics,"
candidates can access the curriculum in PDF format. Students can better comprehend their course of study by consulting the syllabus. Gujarat board publishes the GSEB SSC syllabus 2023 as PDF files which are easy for students to download. The important details regarding the examination are given below.
| | |
| --- | --- |
| Exam Name | Gujarat Class 10 Exam |
| Conducting Body | Gujarat Secondary and Higher Secondary Education Board |
| Frequency of Conduction | Once in an Academic year |
| Mode of Exam | Offline |
| Exam Duration | 3 Hours |
| Question Paper Marks | 100 Marks (Theory Marks+Internal Assessments) |
| Negative Marking | No Negative Marking |
| Official Website | gseb.org |
How to Download Gujarat Class 10 Syllabus 2022-23?
Gujarat Class 10 Syllabus 2022 PDF can be downloaded directly from the link provided below or students can follow these steps to download the syllabus from the official website. So, start your preparation using the Gujarat SSC Syllabus 2023 PDF.
Step 1: Go to gseb.org, the official GSEB SSC board's website.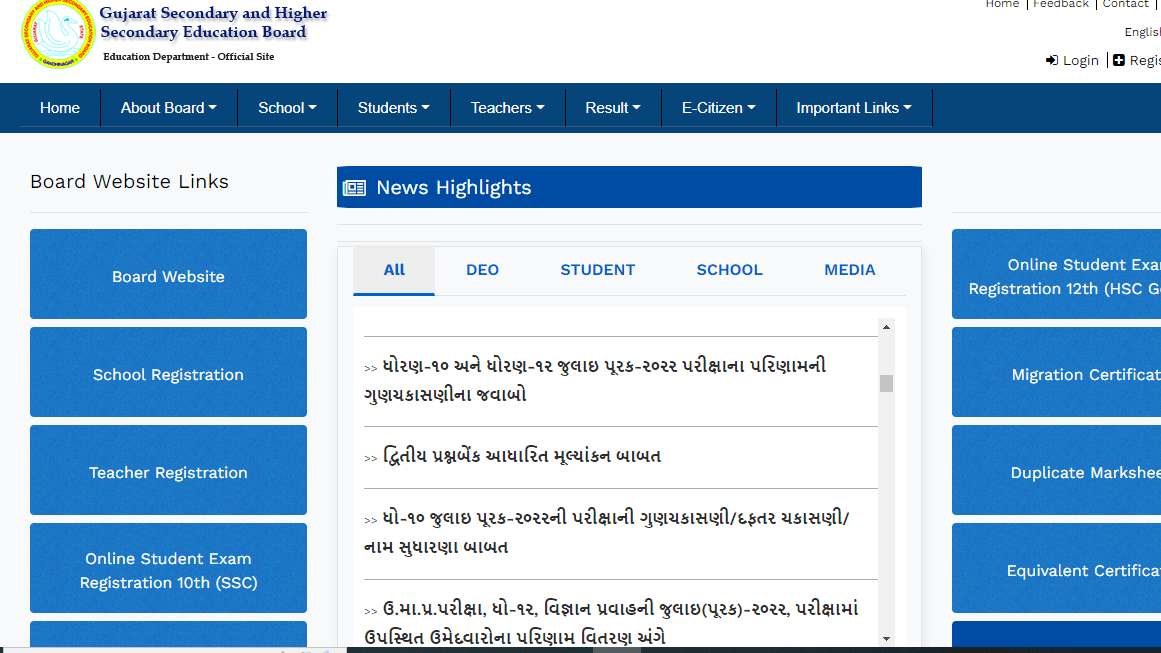 Step 2: From the homepage, go to the "Gujarat SSC Syllabus 2022" link under the "Notification" section.
Step 3: A new block appears, containing a PDF file of a syllabus copy.
Step 4: Select download PDF and save it for future use.
Click here to download the latest GSEB Class 10 Syllabus PDF
GSEB SSC Syllabus 2022 for Science
The GSEB Science syllabus is organized into five sections, with an 80-marks question paper. Students can also check NCERT Syllabus as they both have similar topics. Look over the main subjects listed below.
| | |
| --- | --- |
| Chapters | Topics |
| Chemical Substances-Nature and Behaviour | Chemical reactions, Acids, bases and salts, Metals and nonmetals, Carbon compounds, etc. |
| World of Living | Life processes, Reproduction, Heredity and Evolution, etc. |
| Natural Phenomena | Reflection of light, Refraction; Laws of refraction, etc. |
| Electric Current & Magnetic Effects | Electric current, Ohm's law, potential difference, Advantage of AC over D, etc. |
| Natural Resources | Sources of energy, Eco-system, Coal and Petroleum conservation, etc. |
GSEB 10th Syllabus 2022-23: English Literature Reader First Flight
Reading & writing skills, Literature textbooks, Grammar, and extended reading texts are integral parts of the GSEB 10th syllabus 2023. We have tabulated the important topics of the Class 10 Gujarat syllabus in the following table. 
Subjects
Topics
Prose (First Flight)

A Letter to God
Nelson Mandela
Two Stories about Flying
From the Diary of Anne Frank
The Hundred Dresses –I
The Hundred Dresses –II
Glimpses of India
Mijbil the Otter
Madam Rides the Bus
The Sermon at Benares
The Proposal

Poetry

Dust of Snow
Fire and Ice
A Tiger in the Zoo
How to Tell Wild Animals
The Ball Poem
Amanda
Animals
The Trees
 Fog
The Tale of Custard the Dragon
For Anne Gregory

Supplementary Reader (Footprints without Feet)

A Triumph of Surgery
The Thief's Story
The Midnight Visitor
A Question of Trust
Footprints without Feet
The Making of a Scientist
The Necklace
The Hack Driver
Bholi
The Book that Saved the Earth

Extended Reading Texts 

Diary of a Young Girl – 1947 June 12, 1942 to March 14, 1944, By Anne Frank (unabridged edition uploaded on CBSE website)
The Story of My Life – 1903, Chapters 1-14 By Helen Keller (unabridged edition)
GSEB SSC English Communicative Complete Syllabus 2022
Check out the table given below in order to know more about the GSEB SSC English Communicative Complete Syllabus 2022:
Prose

Two Gentlemen of Verona
Mrs. Packletide's Tiger
The Letter
A Shady Plot
 PatolBabu
Virtually True

Poetry

The Frog and the Nightingale
Ozymandias
 The Rhyme of the Ancient Mariner
Not Marble, nor the Gilded Monuments
Snake

Drama

The Dear Departed
Julius Caesar

Main Course Book

Health and Medicine
Education
Science
Environment
Travel and Tourism
National Integration

Extended Reading Texts

Diary of a Young Girl – 1947 June 12, 1942, to March 14, 1944, By Anne Frank (unabridged edition uploaded on CBSE website)
The Story of My Life – 1903, Chapters 1-14 By Helen Keller (unabridged edition)
GSEB SSC Syllabus 2022 for Social Science
The GSEB Science syllabus is organized into five sections. The table below contains the entire GSEB 10th-grade social science curriculum for 2023. There will be 80 marks on the question paper, 20 of which will be determined by internal evaluations. Look over the main subjects listed below.
Subject
Chapters/Units/Topics
Geography

Resources
Natural Resources
Agriculture
Forest and wildlife resources
Water resources
Mineral Resources
Power Resources
Manufacturing Industries
Lifelines of National Economy

Economics

The Story of Development
Money and Financial System
The Role of Service Sector in Indian Economy
Globalisation
Consumer Awareness

History

Nationalism in Europe
Nationalist Movement in Indo-China
Nationalism in India: Civil Disobedience
Movement
Industrialisation 1850s–1950s
Urbanisation and Urban Lives
Trade and Globalization
Print Culture and Nationalism
History of the Novel

Political Science

Working of Democracy
Power-sharing mechanisms in democracy
Competition and contestations in democracy
Outcomes of democracy
Challenges to democracy
GSEB 10th Syllabus 2022-23: Maths
Examine the Class 10 Maths syllabus and study for the GSEB exams according to the topics' weightage.
Chapters
Topics
Real numbers

Euclid's Division Lemma
The Fundamental Theorem of Arithmetic
Revisiting Irrational Numbers
Revisiting Rational Numbers and Their Decimal Expansions

Polynomials

Zeros of a polynomial
Relationship between zeros and coefficients of quadratic
polynomials
Statement and simple problems on division algorithms for polynomials with real coefficients.

Pair of linear equations in two variables

Pair of linear equations in two variables
Graphical method of solution of a pair of linear equations
Algebraic methods of solving a pair of linear equations
Elimination method
Cross-multiplication method
Equations reducible to a pair of linear equations in two variables

Quadratic equations

Quadratic equations
A solution of a quadratic equation by factorization
A solution of a quadratic equation by completing the square
Nature of roots

Arithmetic progressions

Arithmetic Progressions
The nth term of an AP
Sum of first n terms of an AP

Triangles

Similar figures
Similarity of triangles
Criteria for Similarity of Triangles
Areas of Similar triangles
Pythagoras theorem

Coordinate geometry

Distance formula
Section formula
Area of a triangle

Introduction to trigonometry

Trigonometric ratios
Trigonometric ratios of some specific angles
Trigonometric ratios of complementary angles
Trigonometric identities

Some applications of trigonometry
Circles

Tangent to a circle
Number of tangents from a point on a circle

Constructions

Division of a line segment
Construction of tangents to a circle

Areas related to circles

Perimeter and area of a circle
Areas of sector and segment of a circle
Areas of combinations of plane figures

Surface areas and volumes

The surface area of a combination of solids
The volume of a combination of solids
Conversion of solid from one shape to another
Frustum of a cone

Statistics

Mean of grouped data
Mode of grouped data
Median of grouped data
Graphical representation of cumulative frequency distribution

Probability

Probability-a theoretical approach
GSEB SSC Exam Pattern 2022-23
Check out the details of the GSEB SSC Exam Pattern 2022-23 from the pointers given below:
Each subject has a maximum score of 100 marks.
Each exam requires 33 Qualifying Marks to pass.
Every exam has a three-hour time limit.
Part A and Part B of each question paper will be divided into two sections (Each providing 50 percent marks)
Part A assesses the candidates' theoretical abilities. Part B, on the other hand, contains objective questions and is separated into four sections once more.
Section A will assess your knowledge of the subject and will be worth 15 marks.
Section B, which is worth 10 points, will be based on your understanding of the subject.
Section C will consist of an application-based questionnaire with a score of ten.
Section D will be about skills and will hold 15 marks.
GSEB 10th Examination Preparation Tips 2023
Students can go through some tips and tricks for preparing for the Gujarat Board exams. Go through the
GSEB SSC preparation tips
and know the tips to score well.
Students should modify their academic style a little to prepare for GSEB SSC 2022-23. These small adjustments can have a big impact. To plan a strategy for yourself, read the Gujarat Board exam toppers' own tried and true approaches.
Gather the necessary information, such as the syllabus, exam pattern, and admit card, before studying for the Gujarat SSC 2022-23 exams. It aids in mental organization and stress reduction during exam preparation and exam day.
The majority of students do not bother to study the syllabus, yet it is vital to determine which aspects should be prioritized above others.
Examine the exam pattern and syllabus for Gujarat Class 10, 2022-23 carefully, and keep track of the marks assigned.
After going over the syllabus, you should organize all of your information into a study plan that will help you stay on track. Making a plan will allow you to avoid wasting time by allocating time for your daily activities.
Every topic should be thoroughly practiced using GSEB SSC sample papers 2022-23 or GSEB SSC previous year's question papers. Time yourself and attempt to finish the article quickly so you can revise it before the exam.
While studying for the GSEB SSC 2022, students should take pauses and eat a balanced diet. Only when you are physically fit enough will you be able to perform at your best. While studying for the exam, keep stress at bay by participating in hobbies, napping, or exercising.
Prepare yourself for the board exams by downloading the latest GSEB 10th Syllabus 2022-23. Make sure to start your preparations today to get good marks!