Never Miss an Exam Update
ISC Class 12 Syllabus 2022-23 is very important for the students who will be giving their class 12th board examination in the upcoming month of March 2023. CISCE has issued the ISC Class 12 Syllabus for the 2022-23 session. The Council for Indian School Certificate Examinations (CISCE) has announced that exams for class 12th will be held just once a year. The board examinations will be held only once a year beginning in 2023. For class 12, the CISCE has also announced a redesigned syllabus and exam pattern.
Due to the pandemic that swept the country last year, CISCE held board examinations for class 12th in two semesters. The syllabus was similarly divided into two semesters in this manner. Following the current session, the board reversed its decision to hold semester examinations, and exams will again be held only once a year. Students can check and download ISC class 12 syllabus PDFs below. Check out the details related to the ISC Class 12 Syllabus 2022-23 given below: 
ISC Class 12 Syllabus 2022-23: PDF Link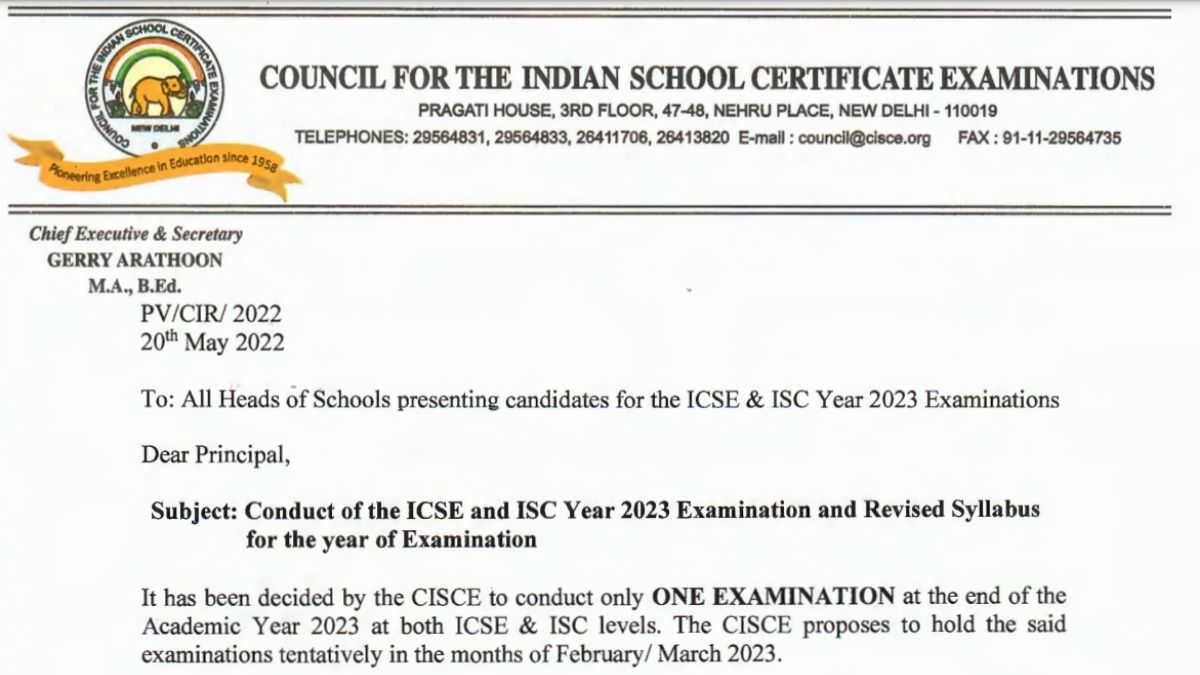 The new ISC class 12 syllabus 2022-23 is now available on the CISCE board's official website. Students can also get subject-by-subject revised syllabuses for the 2022-23 school year from the following links:
Also Read: ISC Class 12 Exam Pattern 2022-23
ISC Class 12 Syllabus 2022-23 Subject Wise 
The topics covered in ISC Class 12 Syllabus 2022-23 are listed in the table below. Students are urged to review the complete syllabus of each course on the official website www.cisce.org.
Subject
Updated Syllabus
English Literature (Compulsory Subject)

Drama: The Tempest: William Shakespeare (Act 3, 4 and 5)
Echoes: A Collection of ISC Short Stories (To Build a Fire – Jack London, The Story of an Hour – Kate Chopin, The Singing Lesson – Katherine Mansfield, The Sound Machine – Roald Dahl, B. Wordsworth – V.S. Naipaul) 
Reverie: A Collection of ISC Poems (The Darkling Thrush – Thomas Hardy, Birches – Robert Frost, Crossing the Bar – Alfred, Lord Tennyson, Dover Beach – Matthew Arnold, We are the Music Makers – Arthur William Edgar O'Shaughnessy) 

Mathematics

Section A

Relations and Functions 
Algebra 
Calculus 
Probability

Section B

Vectors 
Three Dimensional Geometry 
Applications of Integrals

Section C

Application of Calculus
Linear Regression
Linear Programming

*Section A is compulsory and students will have a choice to attempt questions either from Section B or Section C 

Computer Science 

Section A

Boolean Algebra 
Computer Hardware

Section B

Implementation of Algorithms to Solve Problems 
Programming in Java
Objects 
Primitive Values, Wrapper Classes, Types and Casting 
Variables, Expressions 
Statements, Scope 
Methods 
Arrays, Strings 
Recursion

Section C

Inheritance, Interfaces and Polymorphism
Data Structures

Physics

Electrostatics 
Current Electricity 
Magnetic Effects of Current and Magnetism
Electromagnetic Induction and Alternating Currents 
Electromagnetic Waves
Optics
Dual Nature of Radiation and Matter
Atoms and Nuclei
Electronic Devices

Chemistry

Solid State
Solutions
Electrochemistry
Chemical Kinetics
Surface Chemistry
General Principles and Processes of Isolation of Elements
p -Block Elements
d -and f -Block Elements
Coordination Compounds
Haloalkanes and Haloarenes
Organic Chemistry
Alcohols, Phenols, and Ethers
Aldehydes, Ketones, and Carboxylic Acids
Organic Compounds containing nitrogen
Biomolecules
Polymers
Chemistry in Everyday Life

Biology

Reproduction 
Genetics and Evolution 
Biology and Human Welfare 
Biotechnology and its Applications
Ecology and Environment

History

Section A

Towards Independence and Partition: the Last Phase (1935-1947)
Establishment and Development of Indian Democracy (1947-1966)
Challenges to Indian Democracy  (1964-1977)
Changing Face of the Indian Democracy (1977-1986)
India's Foreign Policy
Movements for Women's Rights 

Section B

World War II
De-colonisation – in Asia (China) and Africa (Ghana & Kenya)
Cold War 1945-91 – origin, course, end, and impact
Protest Movements
Middle East: Israeli-Palestine Conflict (1916-1993)

Geography 

Physical Environment 
Population and Human Settlements 
Resources of India and their Utilisation
Infrastructural Resources
Industries
Regional Economic Development
Map Work 

Sociology 

Social Institutions
Religion and Society
Political Organization
Economic Organisation
Tribal India – Past, Present, and Future
Social Stratification
Social Change and Development

Psychology 

Section A

Intelligence and Ability
Personality 

Section B

Lifespan Development
Stress and Stress Management
Psychological Disorders and Psychotherapy
Social Thought and Social Behaviour
Attitudes

Political Science 

Section A

Forms of Government
Constitution 
Franchise and Representation
The Legislature 
The Executive
The Judiciary

Section B

Indian Constitution
Fundamental Rights and Directive Principles
Local Self-Government
Democracy in India – a perspective of the challenges faced

Economics 

Micro Economic Theory 
Theory of Income and Employment
Money and Banking
Balance of Payment and Exchange Rate
Public Finance
National Income

Commerce

Section A

Partnership Accounts (Fundamentals of Partnership, Goodwill, Reconstitution of Partnership)
Joint Stock Company Accounts (Issue of Shares, Issue of Debentures, Redemption of Debentures, Final Accounts of Companies)

Section B

Financial Statement Analysis
Cash Flow Statement (Only for Manufacturing Companies)
Ratio Analysis (Liquidity Ratios, Solvency Ratios, Activity Ratios, Profitability Ratios

Section C

Accounting Application of Electronic Spread Sheet 
Database Management System (DBMS)

Business Studies 

Human Resource Management 
Business Communication and Correspondence
Business Size and Finance
Globalization and Recent Trends in Business
Business Regulators and Intermediaries

Environmental Science 

Section A

Human Beings and Nature 
Population and Conservation Ecology 
Monitoring Pollution

Section B

Third World Development 
Sustainable Agriculture

Section C

Environmental and Natural Resource Economics
International Relations and the Environment
How to Download ISC Class 12 Syllabus 2022-23?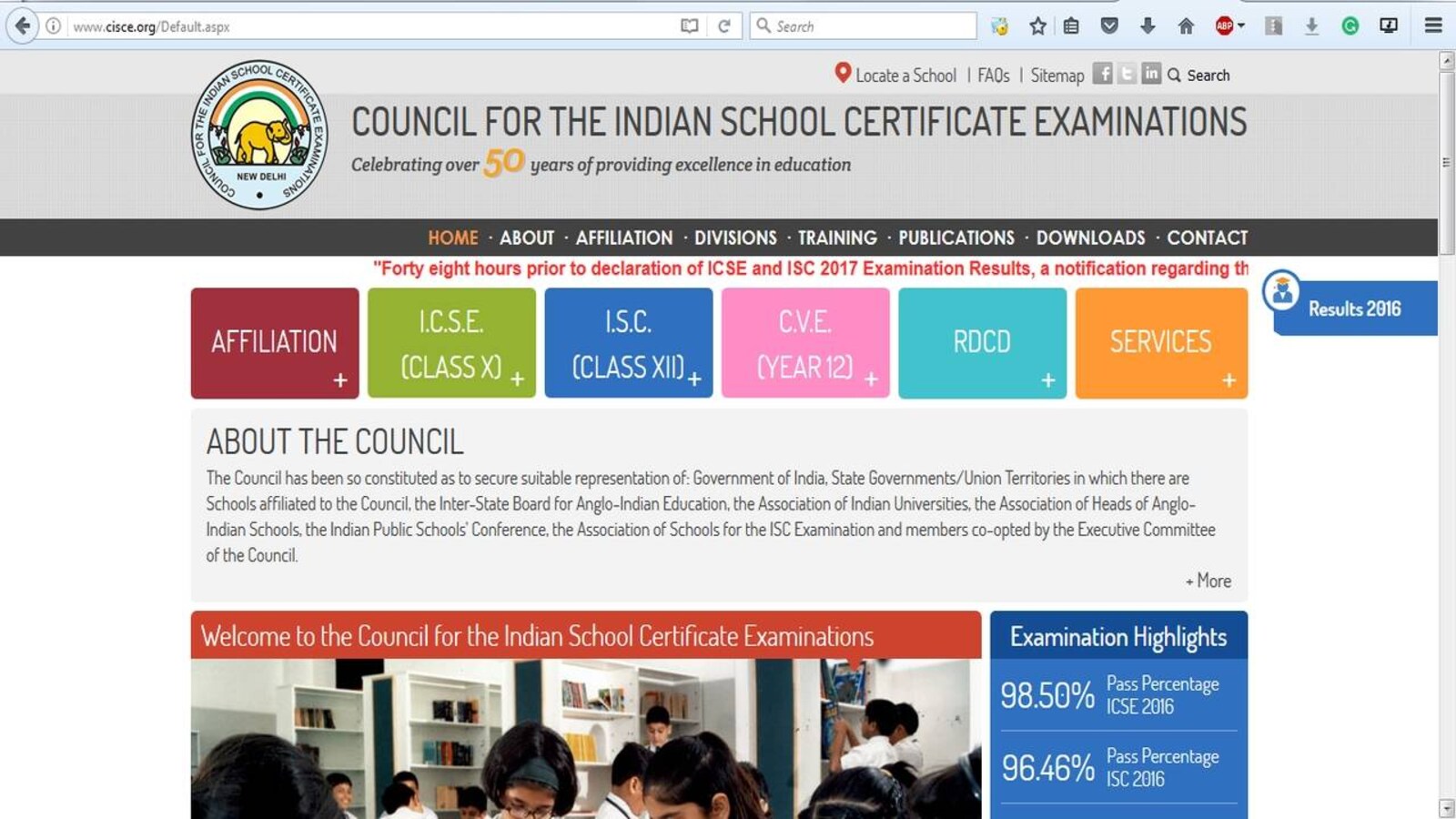 Following are the steps to download ISC Class 12 Syllabus 2022-23:
Visit the CISCE Board's official webpage at www.cisce.org.
Then select "I.S.C (CLASS XII)" from the drop-down menu at the top of the page.
Then, under the ISC (Class XII) option, select "Regulations and Syllabuses."
Click on "ISC Regulations and Syllabi 2023" to open a new window with regulations and syllabi from various years.
Save the PDF for the subject for which you wish to download the syllabus.
How To Use ISC Class 12 Syllabus 2022-23?
It is important that you use the ISC class 12 syllabus 2022-23 to prepare for the board exam. Check out the details related to the same from the pointers given below:
You have to download the syllabus as soon as possible in order to get proper information related to the topic included in the class 12th board exam for ISC.
The students will have to prepare for the board examination taking into account the topic included in each and every subject so you must download the blueprint of each and every subject separately.
The candidates can download the subject-wise syllabus from the links provided above and then they can start their preparation according to each and every subject included in their curriculum.
The students must download the syllabus according to the stream that they have chosen in the class 12th board examination.
The applicant must take a printout of the PDF for the ISC class 12 syllabus 2022-23. You can easily use the PDF in order to revise the subjects included in your curriculum.
ISC class 12 syllabus 2022-23 is important for the people who will be giving their class 12th board examination for the ISC board in the upcoming month of March 2023. Check out the details related to the same from the article provided below.