Never Miss an Exam Update
Bihar Board 12th Syllabus 2023
Bihar School Examination Board (BSEB) is responsible for preparing & releasing the Bihar Board Class 12 Syllabus 2023. The Bihar Board Class 12 Syllabus will be based on the syllabus as prescribed by the board and the Government of Bihar. Before knowing the syllabus students must check BSEB Class 12 Exam Dates 2023 which has been released by the board.  It is important for the candidates to learn about the complete Bihar Board Class 12 Syllabus 2022-23 in order to prepare well for the exam. Knowing about the complete Bihar board class 12 Syllabus will also help the candidates understand which topics they need to focus more on & score well in the exam. After knowing the syllabus students may also check BSEB Class 12 Model Papers.
The candidates can check the complete Bihar Board Class 12 Syllabus 2023 for all the subjects from this page. The subject-wise syllabus PDFs are provided here which can also be downloaded from the official website. Students must note that the syllabus prescribed by the board will only be considered while preparing the final question paper, therefore, studying and preparing as per the official syllabus will be very helpful. 
Bihar Board 12th Syllabus 2023 Subject Wise PDFs
BSEB prescribes NCERT books for Class 12 in its curriculum. The NCERT books must be used by students taking the Class 12 exams to prepare for the test. The BSEB 12th syllabus for a few key subjects is listed here. Students can click here to download the PDF of the course descriptions for all disciplines. The candidates can click on the link provided below to download the PDFs for Bihar Board Class 12 Syllabus 2022-23:
| | |
| --- | --- |
| Subject | Syllabus PDF |
| Mathematics | |
| Physics | |
| Biology | |
| English (Core) | |
| English (Elective) | |
| Chemistry | |
| Computer Science | |
| Accountancy | |
| Business Studies | |
| Economics | |
| Physical Education | |
| Biotechnology | |
| Political Science | |
| Home Science | |
| Geography | |
| History | |
| Hindi | |
| Psychology | |
| Sociology | |
Subject Wise Bihar Board 12th Syllabus 2023
Physics, Chemistry, Biology, as well as the primary language(s) (Hindi/English), are among the topics covered in the Science stream. The Bihar Board 12th Syllabus for Science must be thoroughly studied by students preparing for the Bihar Board exams. Subjects like Economics, Business Studies, and Accountancy are among those offered under the Commerce stream. The topics take a lot of practice and dedication, therefore they must start early with their preparations. The candidates can check below the detailed subject-wise Bihar Board Class 12 Syllabus 2022-23:
Subject

Topics in Syllabus

Mathematics

Relations and Functions, Algebra, Calculus, Vectors and Three - Dimensional Geometry, Linear Programming, Probability

Physics

Electrostatics

Chapter–1: Electric Charges and Fields
Chapter–2: Electrostatic Potential and Capacitance

Unit-II Current Electricity

Chapter–3: Current Electricity

Unit-III Magnetic Effects of Current and Magnetism

Chapter–4: Moving Charges and Magnetism
Chapter–5: Magnetism and Matter

Unit-IV Electromagnetic Induction and Alternating Currents

Chapter–6: Electromagnetic Induction
Chapter–7: Alternating Current

Unit–V Electromagnetic Waves

Chapter–8: Electromagnetic Waves

Unit–VI Optics

Chapter–9: Ray Optics and Optical Instruments 27
Chapter–10: Wave Optics

Unit–VII Dual Nature of Radiation and Matter

Chapter–11: Dual Nature of Radiation and Matter

Unit–VIII Atoms and Nuclei

Chapter–12: Atoms
Chapter–13: Nuclei

Unit–IX Electronic Devices

 Chapter–14: Semiconductor Electronics: Materials, Devices, and Simple Circuits

Biology

Reproduction, Genetics And Evolution, Biology And Human Welfare, Biotechnology and its Application, Ecology, And Environment

English (Core)

Reading comprehension for 20 marks
Writing skills for 30 marks
Literature textbooks for 30 marks

English (Elective)

Section A - 20 Marks
An unseen passage and a poem: - 60 Periods
1. 12 Objective Type Questions including Multiple Choice Questions from a literary or discursive passage of about 950-1000 words. (1x12=12 marks)
2. 04 Short Answer Questions to test interpretation and appreciation and to be answered in 50-60 words each on a poem of about 24 - 28 lines. (2x4=8 marks)
SECTION –B 30 marks
Creative Writing Skills and Applied Grammar 
1. Two Long Answer Questions out of three to be answered in 120-150 words each: Discursive and interpretative writing. (6x2=12 marks)
2. One Very Long Answer Question out of two to be answered in 150-200 words: An essay on an argumentative/discursive topic such as an article/report/speech. (10x1=10 marks)
3. Eight objective Type Questions: Transformation of Sentences: (8 marks)
SECTION – C 20 marks
Literature 
1. One Short Answer Question out of two to be answered in 50-60 words to test understanding and appreciation. (2x1=2 marks)
2. Two Short Answer Questions out of three to be answered in 60-80 words to test understanding and appreciation. (4x2=8 marks)
3. Two Long Answer Questions out of three to be answered in 80-100 words each to test deeper understanding, interpretation, and appreciation. (5x2=10 marks)
SECTION D (16 Marks)
Fiction 
1. One Short Answer Question out of two to be answered in 60-80 words to test understanding and appreciation and seek comments, interpretation, evaluation, and appreciation of characters, events, episodes, and interpersonal relationships. (4x1=4 marks)
2. One Long Answer Question out of two to be answered in 120-160 words to test deeper understanding, interpretation, appreciation, and drawing inferences. (6x1=6 marks)

Chemistry

Solutions, Electrochemistry, Chemical Kinetics, Surface Chemistry, General principles and processes of isolation of elements, The p-Block Elements, Coordination Compounds, The d-and f-Block Elements, Haloalkanes and Haloarenes, Alcohols, Phenols and Ethers, Aldehydes, Ketones, and Carboxylic Acids, Organic Compounds Containing Nitrogen, Biomolecules, Polymers, Chemistry in Everyday Life

Computer Science

Programming and Computational Thinking, Computer Networks, Data Management, Society, Law, and Ethics

Accountancy

Accounting For Not Profit Organisations, Partnership Firms, And Companies
Financial Statement Analysis or Computerized Accounting

Business Studies

Principles and Functions of Management

Nature and significance of Management
Principles of management
Business environment
Planning 
Organizing 
Staffing 
Directing 
Controlling

Business Finance and Marketing

Financial management 
Financial markets 
Marketing management 
Consumer protection

Economics

Introductory macroeconomics

National income and related aggregates 
Money and banking 
Determination of Income and Employment 
Government budget and the economy 
Balance of payments

Indian Economic Development

Development experience and economic reforms since 1991 
Current challenges facing the Indian economy 
Development experience of India (A comparison with neighbours)

Physical Education

Planning In Sports, Sports And Nutrition, Yoga And Lifestyle, Physical Education And Sports For CWSN, children and women in sports, test, and measurement in sports, physiology, and injuries in sports, biomechanics, and sports, psychology and sports, and Training in Sports.

Biotechnology

Protein and gene manipulation 
Cell culture and genetic manipulation

Political Science

Contemporary world politics

Cold War Era 
The End Of Bipolarity 
US Hegemony in World Politics 
Alternative centers of power
Contemporary South Asia 
International Organisation 
Security in the contemporary world 
Environment and national resources 
Globalization

Politics in India since independence

Challenges of nation building
Era of one-party dominance 
Politics of planned development 
India's external relations 
Challenges to the Congress system 
Crisis of the democratic order
Rise of popular movements 
Regional aspirations 
Recent developments in Indian politics 

Home Science

Human development, nutrition during life span, money management and consumer education, Apparel, community development and extension part 2, career options after home science education

Geography

Fundamentals of Human Geography

Human Geography 
People 
Human activities 
Transport communication and trade 
Human settlements 

People And Economy 

People 
Human settlements 
Resources and development 
Transport, communication, and international trade 
Geographical perspective on selected issues and problems

History

Indian history part-1

The Story of the First Cities
Political and Economic History
Social Histories
A History of Buddhism

Indian History part-2

New Architecture
Religious Histories
Colonialism and Rural Society

Indian history part-3

Colonialism and Indian Towns

Hindi

Unseen Passages, Sentence Completion & Correction, Essay, Grammar, One Word Substitution, Synonyms, Antonyms, Verb, advertisement writing

Psychology

Variations in psychological attributes, self, and personality, meeting life challenges, psychological disorders, therapeutic approaches, attitude and social cognition, social influence and group processes, psychology and life, and developing psychological skills.

Sociology

Introducing Indian Society, The Demographic Structure of Indian Society, Social Institutions-Continuity and Change, Market as a Social Institution, Patterns of Social Inequality and Exclusion, Challenges of Cultural Diversity, Suggestions for Project Work.
Change and Development in Indian Society
Structural Change, Cultural Change, The Story of Indian Democracy, Change and Development in Rural Society, Change and Development in Industrial Society, Globalization and Social Change, Mass Media and Communications, Social Movements
How to Download Bihar Board Class 12 Syllabus 2023?
The  Bihar Board 12th exam syllabus covers all the fundamental subjects needed for upper secondary education. The new Bihar 12th grade curriculum for 2023 will be made available on the official website as PDFs. For more details on the class 12th curriculum, candidates can visit the Bihar Board class 12 syllabus 2023 page. In order to keep the standard of education in line with contemporary developments, BSEB frequently updates the Bihar board 12th syllabus. The candidates can follow the steps mentioned below to download the Bihar Board Class 12 Syllabus 2023:
Go to the official website of the Bihar Board.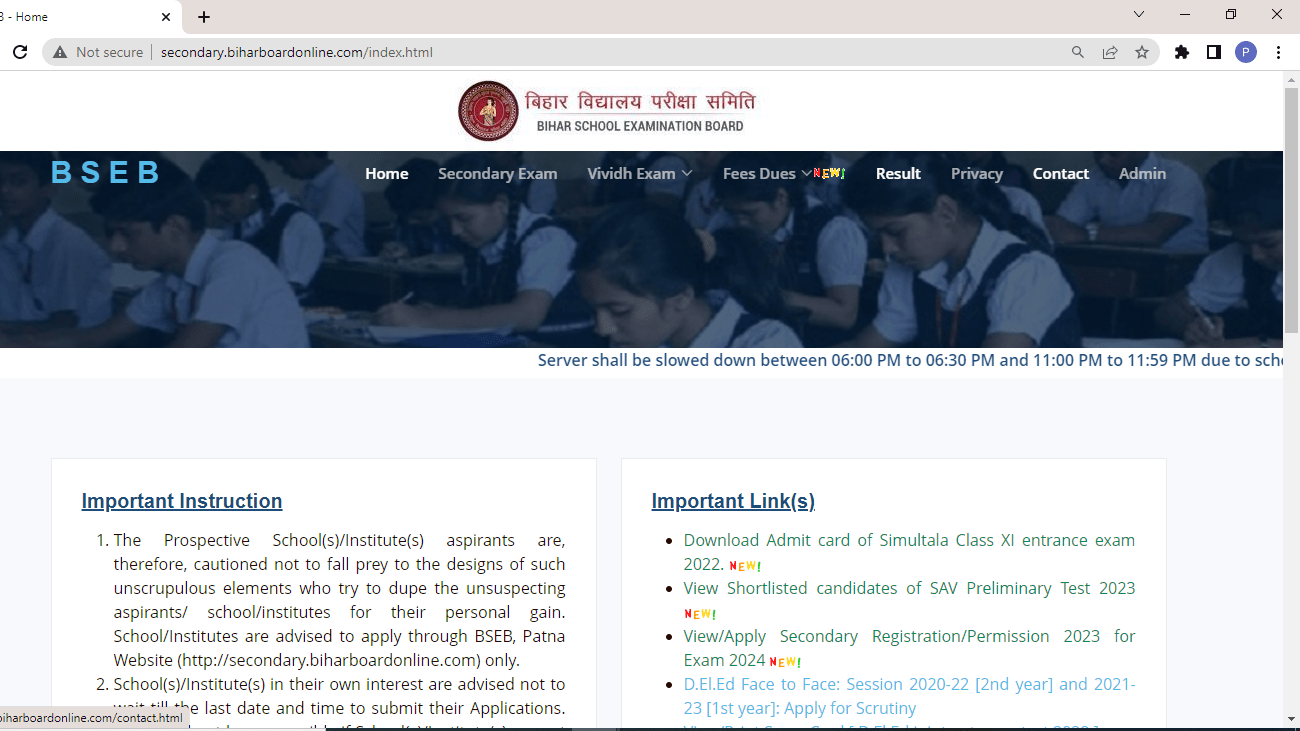 2. On the homepage, click on the header that says syllabus.
3. Under the syllabus, click on the link for the Class 12th syllabus.
4. The subject-wise syllabus will appear on the screen.
5. Click on the link for the subject you want to download the syllabus PDF for.
6. Save the syllabus and use it to prepare for your exam.
Bihar Board Class 12 Exam Pattern 2023
Students will be guided as they study for the main exam by the most recent changes to the Bihar board 12th exam pattern Students may also check the Detailed BSEB Class 12 Exam Pattern 2023.
There will be both multiple-choice and subjective questions in the exam, per the Bihar board paper pattern.
For each subject, there will be subjective questions covering 50% of the paper and objective questions covering the other 50%.
Long and short-answer questions are both included in subjective questions.
The total number of questions, the recommended number to attempt, and the scores for each question are listed in the table below.
The language papers (Hindi, English, etc.) will include longer answer questions worth more than 5 marks.
| | |
| --- | --- |
| Theory Exam | 80 |
| Practical Exam & Internal Assessment | 20 |
| Total | 100 |
Bihar Board Class 12 Preparation tips 2023
Students preparing for Class 12 Bihar Board 2023 examinations must go through the entire Bihar Board 12th Syllabus as well as the BSEB 12th Exam Pattern 2023 to know the important topics and the marking scheme. Knowing the types of questions that are typically posed in exams might also aid students if they studied the pattern. Students preparing for BSEB Class 12 Examination must go through Bihar Board Class 12 Preparation tips 2023.
Solve Previous Years' Question Paper: Solving BSEB Class 12 Previous year Question Papers' can offer you a better understanding of the exam format and frequently requested questions. Your knowledge and conceptual comprehension will be tested by these articles. You can get a sense of the exam's difficulty level from the paper pattern. It helps kids develop their confidence and problem-solving abilities.
Revision is the finishing touch. Don't put off revision till the last minute. Instead, pick a day during the week and review what you've done up to that point. Two months before your board exams, try finishing the syllabus. You have plenty of time to revise.
Time management: Make a schedule and devote equal amounts of time to each subject's study time. Students who are good with their time might avoid feeling stressed out when studying for exams. You are able to do your coursework within the allotted time if each subject has a deadline. When you are most productive, study.
Work on Your Weak Points: Be aware of your shortcomings and make a concerted effort to strengthen them. Take note of your errors. Examine your pre-board answer papers and try to reduce your mistakes. Making a list of your areas of weakness is helpful. Try to take notes on whatever you believe to be crucial, and then review them every day.
Stay tuned to CollegeDekho for the latest Bihar Board Board news and updates.