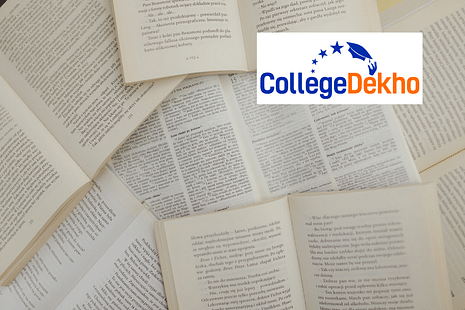 Never Miss an Exam Update
NIOS 10th Exam Pattern 2024: Students who are going to appear for NIOS 10th board exams should thoroughly prepare the topics as per NIOS class 10 exam pattern. Students can visit the website - nios.ac.in to check the exam pattern followed by NIOS. NIOS 10th exam pattern can be helpful in creating a good preparation plan. NIOS 10th class syllabus 2024 has divided the subjects into 2 groups - Group A and Group B. Group A of the NIOS syllabus included language subjects while Group B consists of all other core subjects. 
NIOS board offers 28 subjects in eight mediums such as English, Hindi, Urdu, Telugu, Marathi, Gujarati, Malayalam, and Odia for secondary examinations. In addition, NIOS also offers vocational subjects in combination with academic subjects at the secondary stage. Students are also advised to solve the NIOS 10th sample question papers in order to have an insight into the type of questions asked in the examination. Read below to know more about NIOS 10th exam pattern 2024.
Quick Links: 
NIOS 10th Exam Pattern 2024: Highlights
The table given below highlights all the important points pertaining to NIOS Board 10th Exam Pattern 2024:
| Mode of Examination | Offline |
| --- | --- |
| Medium of Examination | English & Hindi  |
| Total Time Duration | 3 Hours |
| Type of Questions | Competency Based Questions, Multiple Choice, Long/Short Questions |
| Streams | Science, Commerce, Arts |
| Total Marks | 100 |
| Negative Marking | NA |
| Theory Exam | 80 |
| Internal Assessment | 20 |
| Passing Marks | 30% Aggregate in Each Subject & Overall |
NIOS 10th Exam Pattern 2024
Check the major pointers related to the NIOS 10th Exam Pattern 2024 here and start preparing for the board exams:
NIOS 10th 2024 Board Exams will be conducted on a single-term system.
NIOS 10th 2024 exams will be conducted twice in an academic year i.e. once in October/ November and others in March/ April.
All the subjects are classified under two groups: Group A & Group B.
The syllabus for the NIOS 10th board exams has been updated by the board on its official website.
The theory paper will comprise 80 marks while the practicals/ projects will account for 20 marks out of a total of 100 marks.
NIOS has proposed to increase the number of MCQs in the final exams.
The scores obtained in the project work and practical examination will be reflected in the final result.
The minimum passing marks for each subject as well as on an aggregate will be 30%.
NIOS 10th Exam Pattern 2024: Subject Wise
The marking scheme for NIOS 10th Exams 2024 for each subject is designed specifically. The main components of the NIOS 10th marking scheme include the Tutor Marked Assignments, better known as the TMAs, and then ultimately, the board exams. As we have talked about the Group A subjects, which do not include any practical assessment, TMAs come into place and their weightage here is 20% of the total marks. The total marks for each subject will be 100. However, the theory paper will be taken on 80 marks and the other 20 marks will be considered on the basis of TMAs i.e. 80 (theory)+ 20 (TMAs)= 100 marks. 
For the Group B subjects, the board question paper will be 85 marks. But the theory paper scores will be calculated on a maximum of 64 marks. Since 20 marks have been assigned to the practicals/ project work, the tutor-marked assignment will be judged upon 16 marks converted from the 20 marks in its initial form. So the structure of marking of group B subject becomes 64 (theory)+ 20 (practicals) + 16 (TMAs) = 100 marks. Check the subject-wise exam pattern here:
Subjects
Marks
Duration (in hours)

Group A

English, Hindi, Urdu, Bengali, Telugu, Gujarati, Kannada, Punjabi, Nepali, Assamese, Marathi, Sanskrit, Malayalam, Odia, Arabic, Persian and Tamil.

100

3

Group B 

Indian Culture and Heritage

100

3

Social Science

100

3

Science (Theory) 

85

2.5 

Science (Practical)

15

3

Mathematics (Theory) 

85

2.5

Mathematics (Practical)

15

3

Home Science (Theory) 

85

2.5 

Home Science (Practical)

15

3

Painting (Theory) 

30

1.5 

Painting (Practical)

70

3

Accountancy

100

3

Psychology

100

3

Economics

100

3

Business Studies

100

3

Data Entry Operations (Theory) 

40

2 

Data Entry Operations (Practical)

60

2
NIOS 10th Exam Pattern 2024 - Marking Scheme
The Marking Scheme for NIOS 10th Board Exams 2024 is represented in the form of points given below:
The Board papers will have questions having different weightage as per the length of the answers.
The question paper will contain about 40% of competency-based questions, 20% of questions will be based on MCQ format, and 40% of the remaining questions will be short and long-answer type questions.
Marks corresponding to each question will be based on the type of question. Each MCQ will be of 1 mark, Short answer type questions will be of 2 marks each and the long answer questions will be of 3 marks.
The overall marks for each subject will be calculated by adding up the theoretical marks and marks obtained in the Internal Assessment/ Practicals.
Preparation Tips for NIOS 10th Board 2024
As there are no regular classes in NIOS, it becomes challenging for students to complete the syllabus in time. Understanding such issues faced by students, the board provides sample papers and the NIOS exam pattern to students. The candidates preparing for NIOS 10th exams must follow the below-mentioned tips and tricks to score higher marks.
Get familiar with the NIOS exam pattern: Before exams, students must get familiar with the NIOS exam pattern. This helps in preparing strategically for the exam. Students can visit the official website to check the NIOS exam pattern.
Prepare a study plan: Students must plan a realistic timetable and follow it strictly. They must dedicate sufficient time to all subjects to pass the exam with good marks.
Solve NIOS sample papers: The sample papers are a reliable source of preparation. The board provides a subject-wise list of sample papers on the official website. These sample papers help students to understand the course structure. Therefore, it is beneficial for students to practice various NIOS sample papers and get an idea of the types of questions frequently asked in the board exams.
Prepare notes: Through handmade notes, it becomes simple for students to do the last-minute revision. Hence, students can create short notes that help them to retain all the information easily.
Refer to NIOS-published books: Often, students get confused about which study material will be best for NIOS preparation. NIOS provides its own preparation material to students for all subjects. It is advised that the candidates refer to the study material provided by NIOS for preparation. Besides this, if they require more practice, they can study from NCERT books.
NIOS 10th Grading System 2024
The Board for the National Institute of Open Schooling awards grades to the students on the basis of the percentage scored by them in the NIOS 10th Exam. The report card indicates the grades for each subject as well as on an aggregate basis. The table given below shows the NIOS 10th Grading System:
| Percentage in 12th | Grade | Remarks |
| --- | --- | --- |
| > 75% | A | Very Good |
| 50% - 75% | B | Good |
| 26% - 50% | C | Average |
| < 25% | D | Fail |
Stay tuned to CollegeDekho for more Education News! You can also join our Telegram Group for the latest Education news & updates!