Never Miss an Exam Update
MP Board 10th Syllabus 2022-23 Overview
On the official website of the MP Board, mpbse.nic.in, the updated MP Board syllabus 2022-23 for class 10 has been released. MP Board 10th Class Syllabus 2023 and MP Board 10th Exam Pattern 2023 are very helpful for all of those who are preparing for the MPBSE Class 10th exam.  Students studying for the MPBSE Class 10th syllabus 2022-23 should look through English, Maths, Science, Social Science, and other subjects. The MP Board 10th syllabus 2023 comprises all of the units and subjects for each subject that must be studied in preparation for the upcoming exams. In this post, students may find full subject-wise MPBSE class 10 syllabus 2022-23. 
Students will be able to develop preparation methods for the MPBSE 10th exams using the MP board 10th syllabus 2022-23. Before checking the Syllabus students must check MP Board 10th Time table 2023. Solve the MP Board model papers PDF after you've finished the MP Board 10th syllabus 2022-23 to see how well you've prepared. Students are advised to finish the MP board 10th syllabus 2023 at least a month before their exams. They'll have plenty of time to revise as a result. To learn more about the MPBSE 10th-grade syllabus for 2022-23, read the complete article.
MP Board 10th Syllabus 2022-23 Highlights
On their official website, the MP Board makes the syllabus copy for class 10th available online. The syllabus is changed on a regular basis to keep up with the standard of education in the MPBSE Board's institutions. Students who are preparing for MP 10th Board exams can review and download syllabus PDFs for several topic groups. Special subjects, General subjects, and Other subjects are the three subject frameworks used to categorize the subjects.
| | |
| --- | --- |
| Exam Name | Madhya Pradesh Class 10 Exam |
| Conducting Body | The Madhya Pradesh Board of Secondary Education (MPBSE) |
| Category | Syllabus |
| Frequency of Conduction | Once in an Academic Year |
| Mode of Exam | Offline |
| Exam Duration | 3 Hours |
| Question Paper Marks | 100 Marks (Theory Marks + Internal Assessments) |
| Negative Marking | No Negative Marking |
| Official Website | mpbse.nic.in. |
MP Board 10th Syllabus 2022-23 for Mathematics
 Students can check topics of MP Board 10th Maths syllabus 2023 below. Cover the topics from NCERT books or MP Board 10th books recommended by respective schools. The chapters covered in the MP Board 10th syllabus 2023 are listed below
Real numbers
Polynomials
Pair of linear equations in two variables
Quadratic equations
Arithmetic progressions
Triangles
Coordinate geometry
Introduction to trigonometry
Some application of trigonometry
Circles
Constructions
Areas related to circles
Surface areas and volumes
Statistics
Probability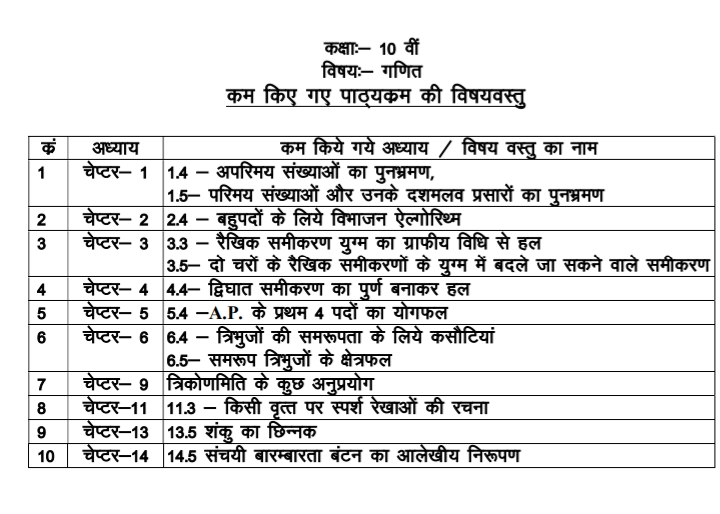 MP Board 10th Syllabus 2022-23 for Science
Students seeking MPBSE class 10 science syllabus should consult the NCERT 10th Class Science Syllabus. Because the MP board has not prescribed a syllabus for science subjects, the board refers to the NCERT syllabus. The chapters covered in the MP board syllabus for class 10th Science are listed in the table below.
MPBSE class 10 Science Syllabus 2022-23
Chemical Reactions and Equations
Heredity and Evolution
Acids, Bases and Salts
Light – Reflection and Refraction
Metals and Non-metals
The Human Eye and Colourful World
Carbon and its Compounds
Electricity
Periodic Classification of Elements
Magnetic Effects of Electric Current
Life Processes
Sources of Energy
Control and Coordination
Our Environment
How do Organisms Reproduce?
Sustainable Management of Natural Resources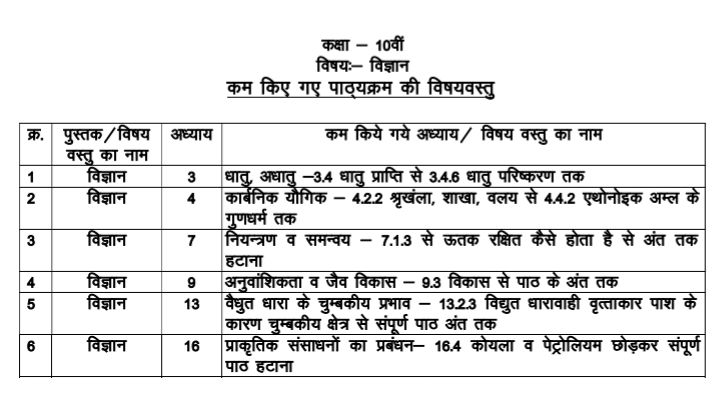 MP Board 10th Syllabus 2022-23 for Social Science
Social Science syllabus consists of History, Geography, Civics and Economics. Students are advised to refer to the table below to know the detailed syllabus of Social Science. Topics along with the sub-topics are provided below in the table:
Unit

Topics

India Resources

Types of Resources
Forest and Wild Life
Agriculture
Water Resource
Mineral Resource
Power Resource

Industry

Types
Contribution of Industries to National Economy
Industrial Pollution

Transport, Communication & ForeignTrade

Transport-Utility and types
Means of Communication
Foreign Trade
Imports and Exports

Disaster Management

Natural Calamities
Man-Made Calamities
General Calamities

Maps

First Struggle for Freedom and after

Introduction to important revolutionaries
First struggle for Freedom of 1857
Moderates and Extremes Birth of Indian National Congress.

Events related to the Independence Revolution

Revolution of Bange Bhang Partition of India in 1947 and its silent features
Contribution of Madhya Pradesh to the Freedom Struggle.

Major Events of the Post-Independence period

India's relations with neighboring countries
Birth of Bangladesh
emergency in India
Kashmir Problem
Rise of India as atomic power

Indian Constitution

Organisation of Constitution Draft Committee
Salient Features of Indian Constitution

Working of Indian Democracy

Federal System
Organs of Government
Division of Administrative Power between Centre and States

Major Challenges before Democracy

Increase in Population
Unemployment
Communalism
Terrorists,
Drug addiction

Story of Development

Ancient and modern concept of economic development
National Income & Per Capita Income
Economic Planning in India
Money and Financial system, private financial institutions and different types of banks

Services Sector

Service Sector
Infrastructure

Consumer Awareness

Need and Importance
Consumer Exploitation
Causes and Remedies
Standardisation of Commodities
Government Role

Economic Systems and Globalisation.

Economic System
Globalisation
MP Board 10th Syllabus 2022-23 for English (Special)
MP Board 10th Syllabus 2022-23 for English (Special) is added below:
| | | | |
| --- | --- | --- | --- |
| Section | Section name | Topics | Marks |
| A | Reading Skills (Reading Unseen Passages) | Three unseen passages: Factual passage, Discursive passage, Literary passage | 30 |
| B | Writing Skills | Notice, message, telegram, advertisement; notice, letter, Story writing, etc. | 30 |
| C | Grammar | Tenses, Sentence Structure, Determiners, Pronouns, Prepositions | 15 |
| D | Prescribed Text Book | Two extracts from different poems, One or two questions based on one of the drama texts, two questions based on one of the prose texts | 25 |
MP Board 10th Syllabus 2022-23 for Hindi (Special)
MP Board 10th Syllabus 2022-23 for Hindi (Special) is added below. Students can also Download Complete MBPSE Class 10th Syllabus of Hindi (Special).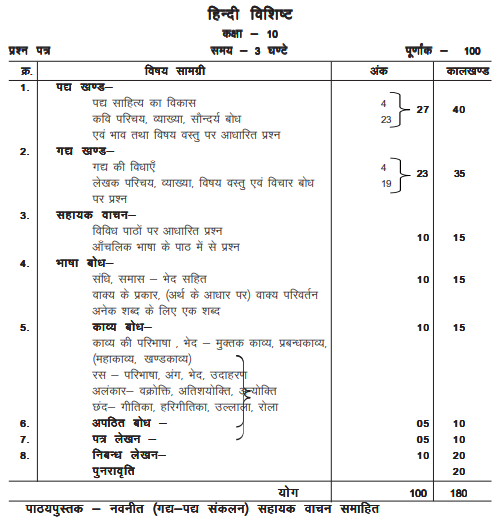 MP Board 10th Syllabus 2023 for Hindi (General)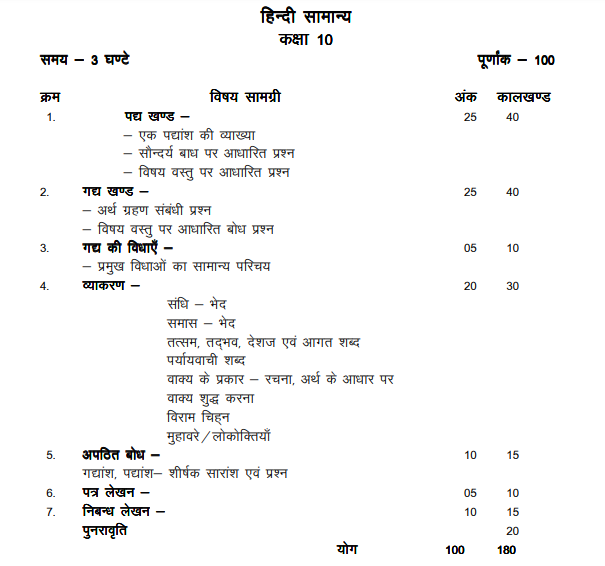 How to Download MP Board 10th Syllabus 2022-23?
Using the URL provided above, students can obtain the MPBSE class 10 curriculum. They can also get it via the official website if they follow the instructions below:
Go to mpbse.nic.in, the official website of the MP board.
Click on the link of Academics given in the menu bar.
Scroll down to the 'Revised MP board 10th syllabus' link and click it.
It will take you to a different page. From the subject list on the screen, select the appropriate subject link.
The MP board syllabus for a specific subject will appear on the screen.
For future reference, save it or print it off.
MP Board 10th Examination Preparation Tips
Following these guidelines will undoubtedly assist students in improving their exam results.
After reviewing the MPBSE 10th syllabus, students should review the exam schedule to learn about exam dates.
They should plan ahead of time so that they can finish the entire MP board 10th syllabus one month before the exams.
Aside from school hours, set aside 4-5 hours to study.
Students should concentrate on conceptual clarity, which will help them recall topics for a long time.
Solve MP board class 10 sample papers to familiarise yourself with the types of questions that will be asked in the test.
Make a list of relevant subjects and formulas to remember. These notes will be useful for revising the full MP board 10th syllabus in a short amount of time in the future.
To do well in Madhya Pradesh class 10 result 2022-23, you must first identify your weak regions and sections.
Keep your mind fresh by doing exercises or meditation on a daily basis.