Never Miss an Exam Update
The official website of HPBOSE has posted the HP Board Class 12 Exam Pattern for the academic years 2022-2023. For a comprehensive knowledge of the board test, students are urged to visit the website and look at the exam pattern and curriculum. The candidates are urged to review the revised Exam Pattern and make preparations in accordance with it as it is available on the website. There will be some significant modifications to the exam format for higher secondary exams, such as increasing the weighted average of each question and giving more marks to a certain topic. The updated pattern of marks distribution for several disciplines have been made available by HPBOSE on its official website. In order to strategically prepare for the exam, students should review the updated exam format. Also Check HP Board Class 12 Syllabus
HPBOSE 12th Latest Updates 2023
HP Board Class 12 Highlights 2022-23
The exam will be administered in the morning and afternoon sessions. Beginning at 8:45 am and lasting until 12 pm, the morning session tests are for ordinary students only. However, open school students must take the exam between 1:45 and 5 p.m. A maximum of 100 marks will be assigned to each paper. 
| | |
| --- | --- |
| Particulars | Details |
| Name of the exam | HP Board 12th (Plus Two) Exams 2022 |
| Exam Conducting Body | Himachal Pradesh Board of School Education (HPBOSE) |
| Official website | hpbose.org |
| Exam dates | 13 March to 06 April 2023 (tentative) |
| Total duration | 3 hours and 15 minutes |
| Result date | May 2023 (tentative) |
HPBOSE 12th Paper Pattern 2022-23 
The board has determined to hold the Class 12 exams twice in the state this year. Exams for Term 2 will take place in March/April 2023. The first term's exam were conducted in MCQ format during September - October 2022. Exams for Term 2 will comprise both objective and MCQ questions. Also Check HP Board Class 12 Question Paper
HPBOSE 12th English Exam Pattern 2022-23
English is an interesting subject for students as it consists of stories and poems. A combination of objective and subjective questions makes it scoring for students. Considering the weightage, students can focus more on the topics that carry high marks.

Term I Syllabus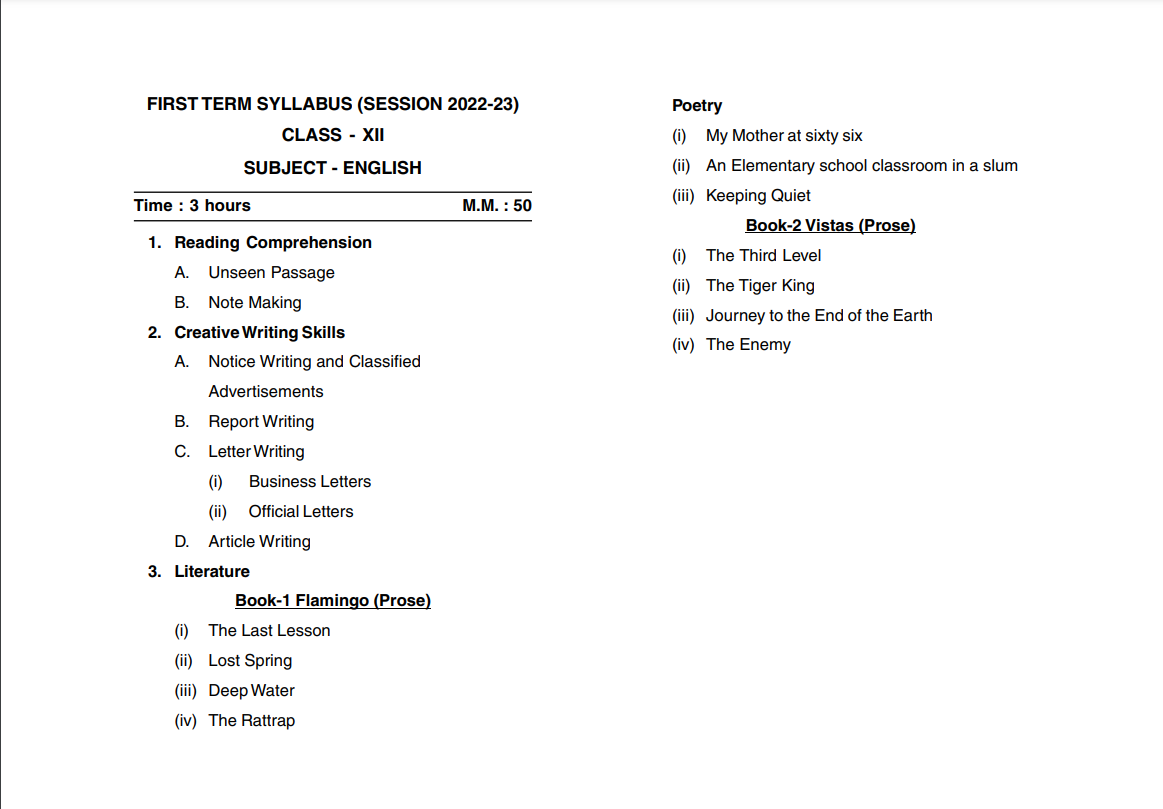 Term II Syllabus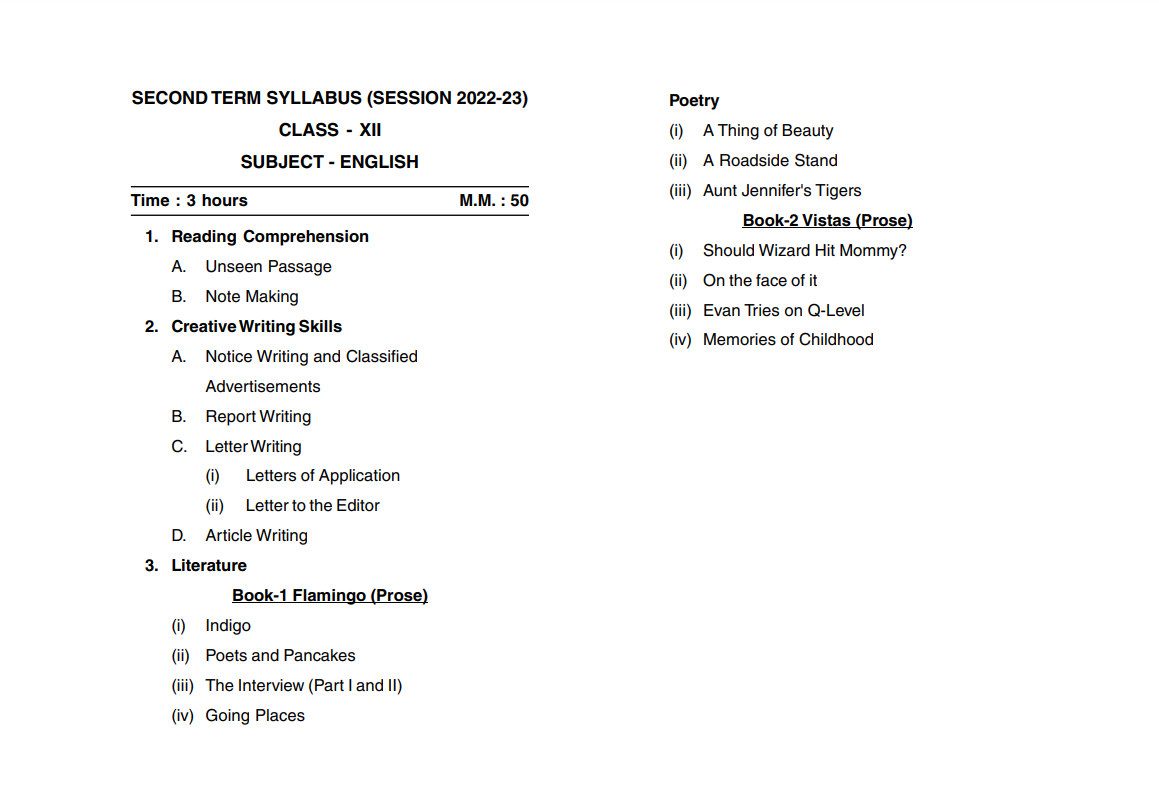 HP Board Class 12 Exam Pattern 2023 Mathematics
The math curriculum for HP Board's class 12 in 2022 - 2023 is the same for all three categories. The first-term exam will consist of a 50-mark question paper that must be completed in three hours.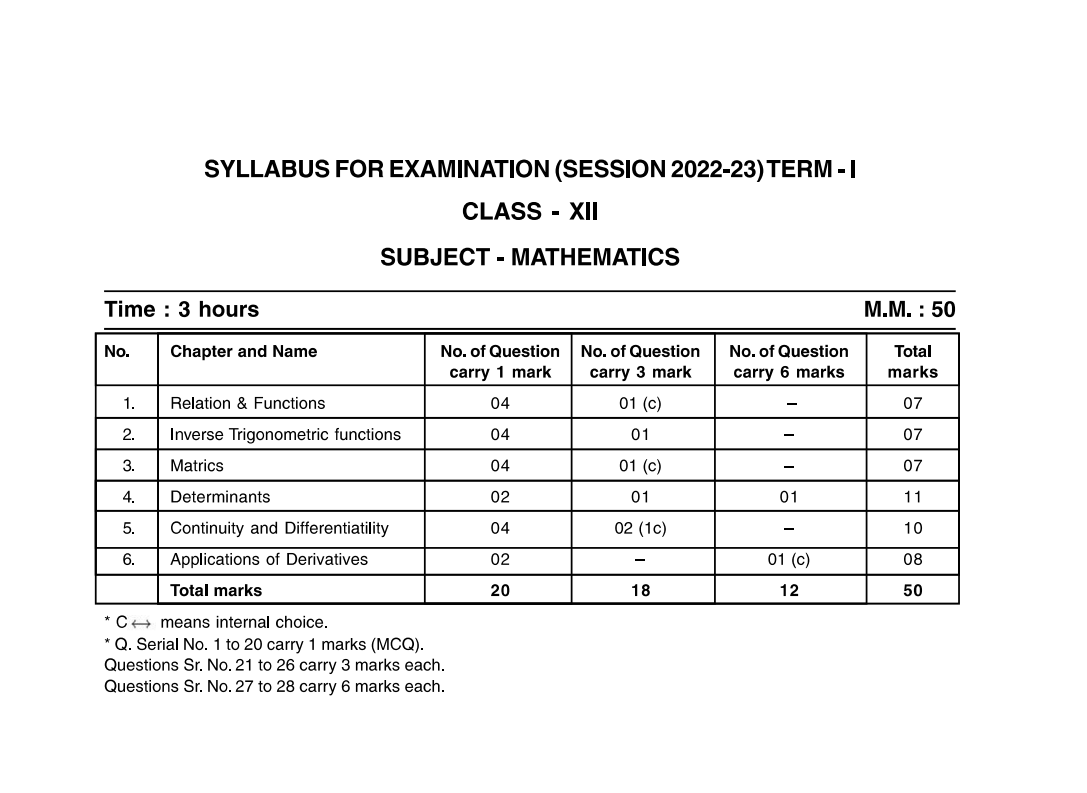 HPBOSE 12th Maths Exam Pattern 2022-23 (Term 2) 
Students can check the marks distribution for syllabus under Term 2 and focus on the topics accordingly. This also helps students to manage time duration during the board exam. They can take an estimate of minutes to be devoted to a particular topic.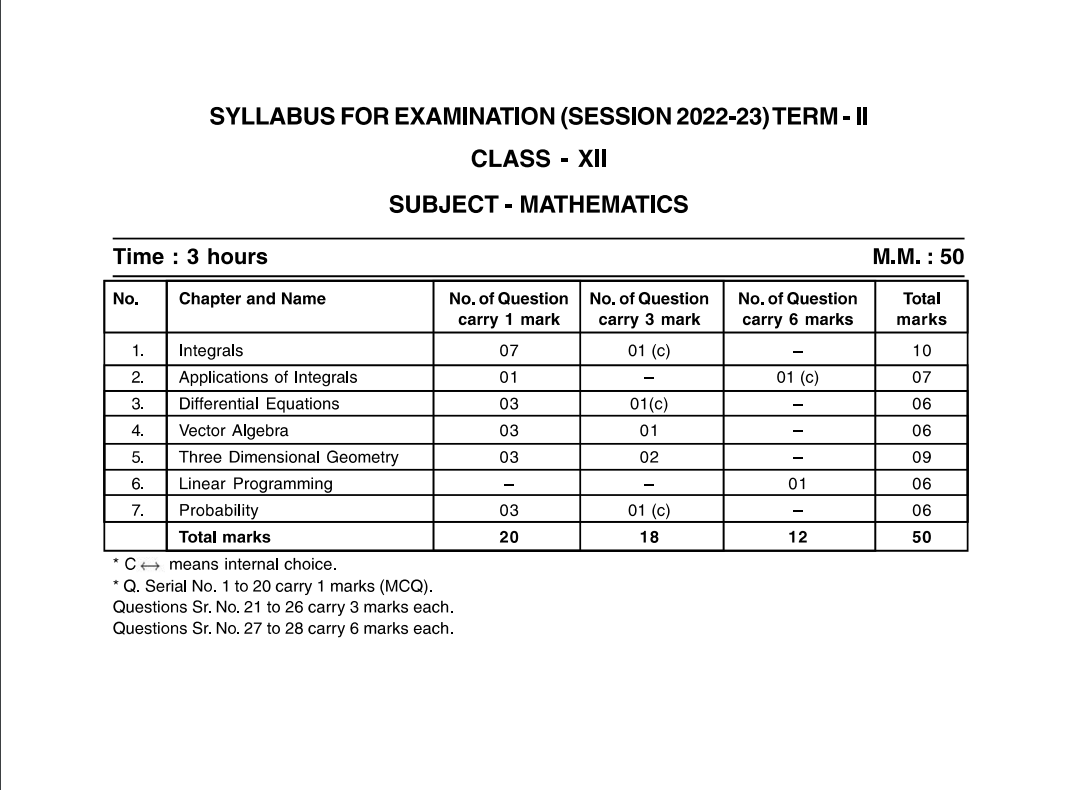 HP Board Class 12 Biology Exam Pattern
The class 12 Biology curriculum places additional emphasis on the concepts that apply to both plants and animals, as well as on applying biology to real-world issues, making use of biological inventions and discoveries in daily life, the environment, and other areas. The Biology Class 12 Himachal Board theory paper may receive up to 60 points, while the biology practicals are worth 25 points and the internal assessment is graded on a 15-point scale. Also Check HP Board 12th Syllabus for all Subjects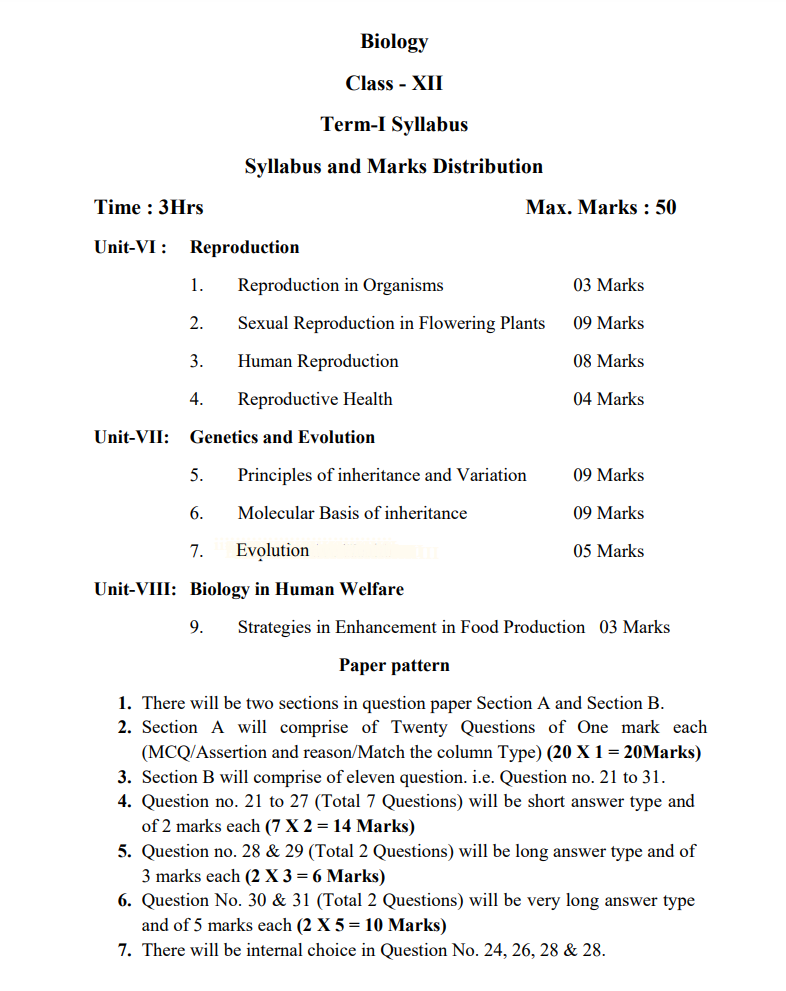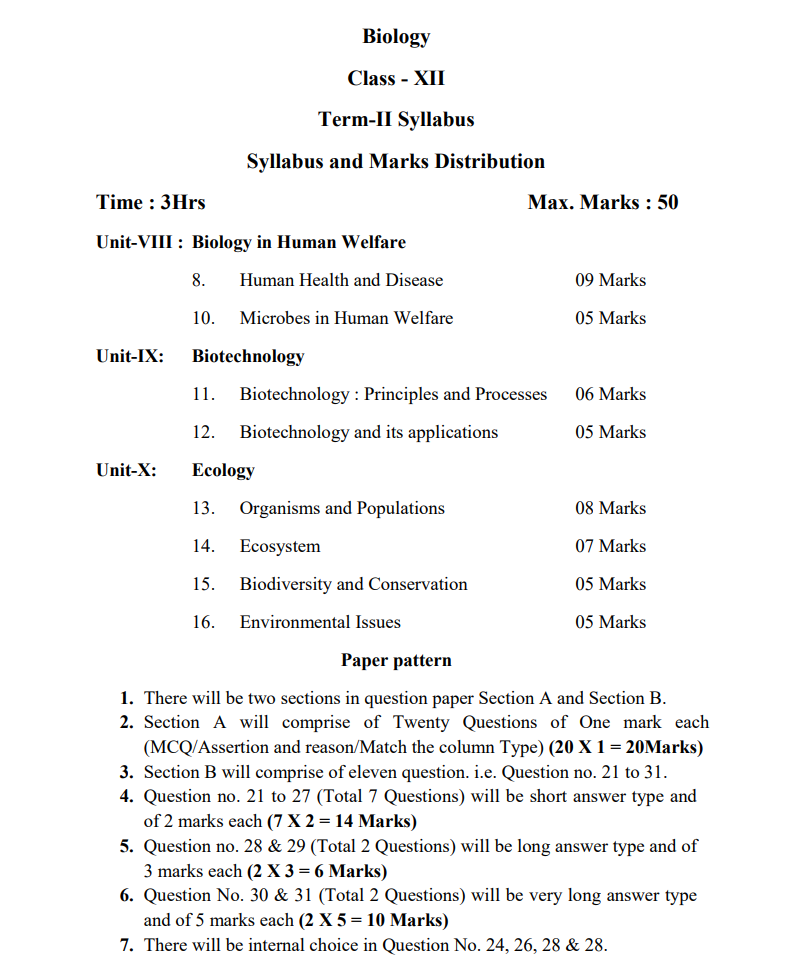 HP Board Class 12 Physics Exam Pattern
In order to provide in-depth knowledge of Physics to the students, class 12 students are introduced to certain new concepts in the subject. The major goal of presenting new concepts in the class 12th level is to give the students a solid foundation for their future study of physics. Students have three hours to finish the theoretical paper, which is worth 60 marks. However, the practical exams only count for 25 marks. The rest 15 marks are counted for internal assessment.
The average weightage of each unit in the Himachal Pradesh Board Class 12 Physics curriculum is as follows: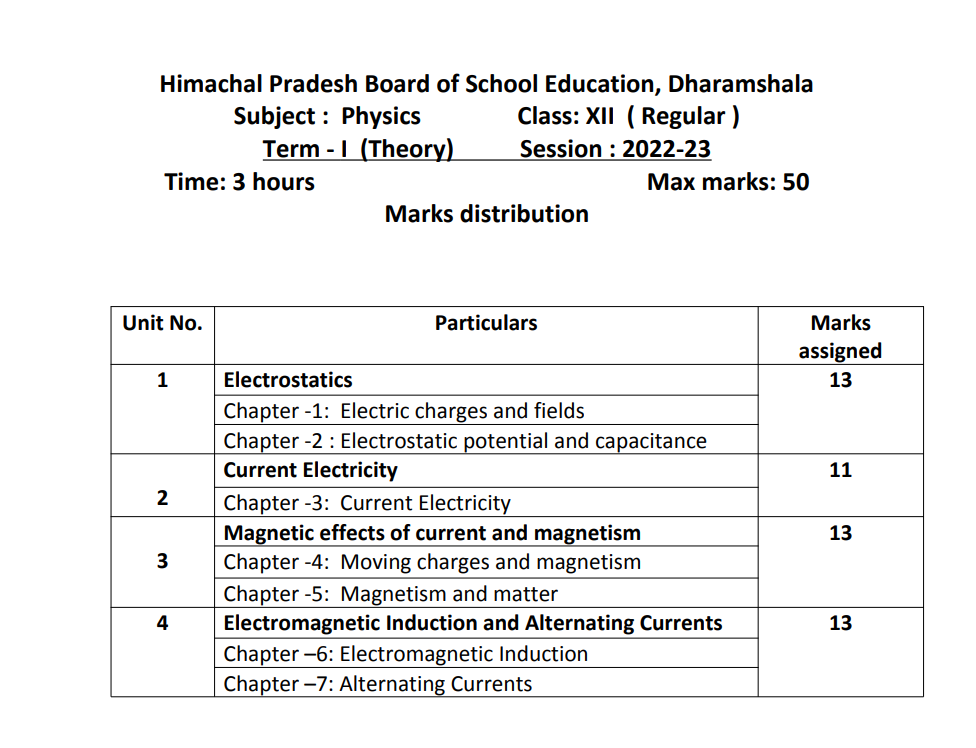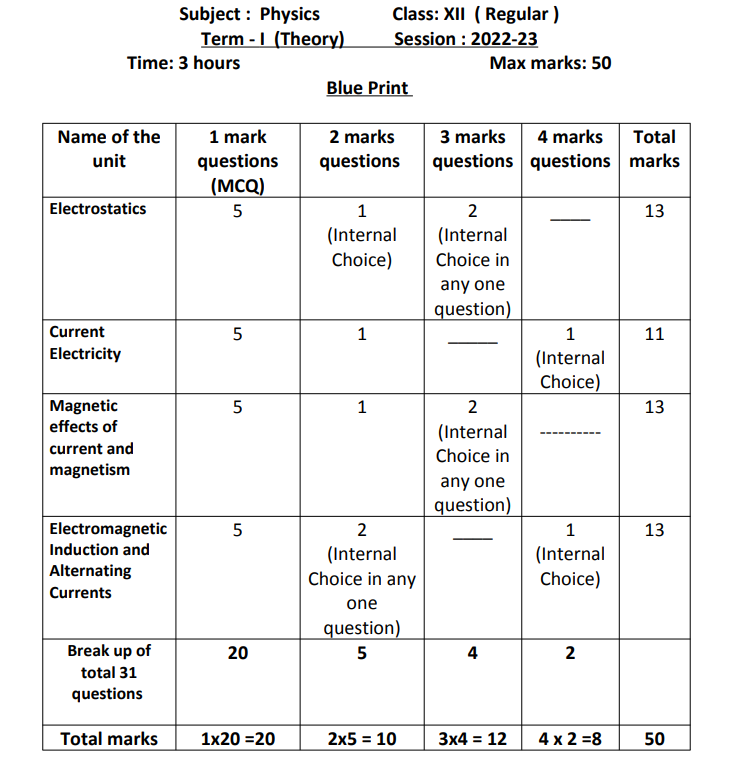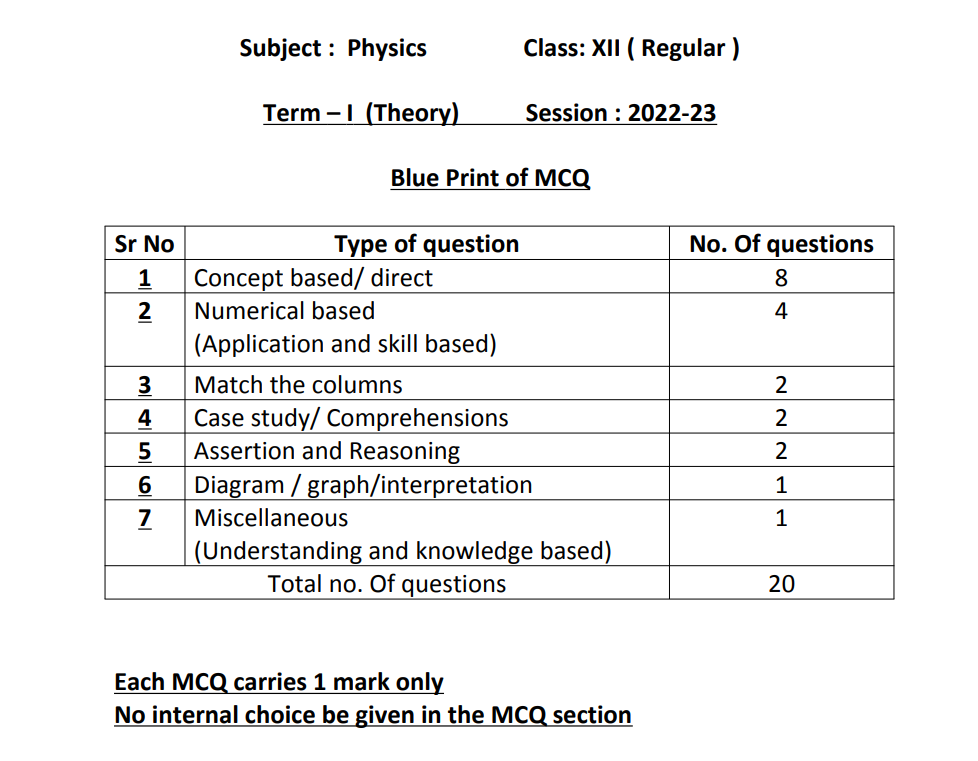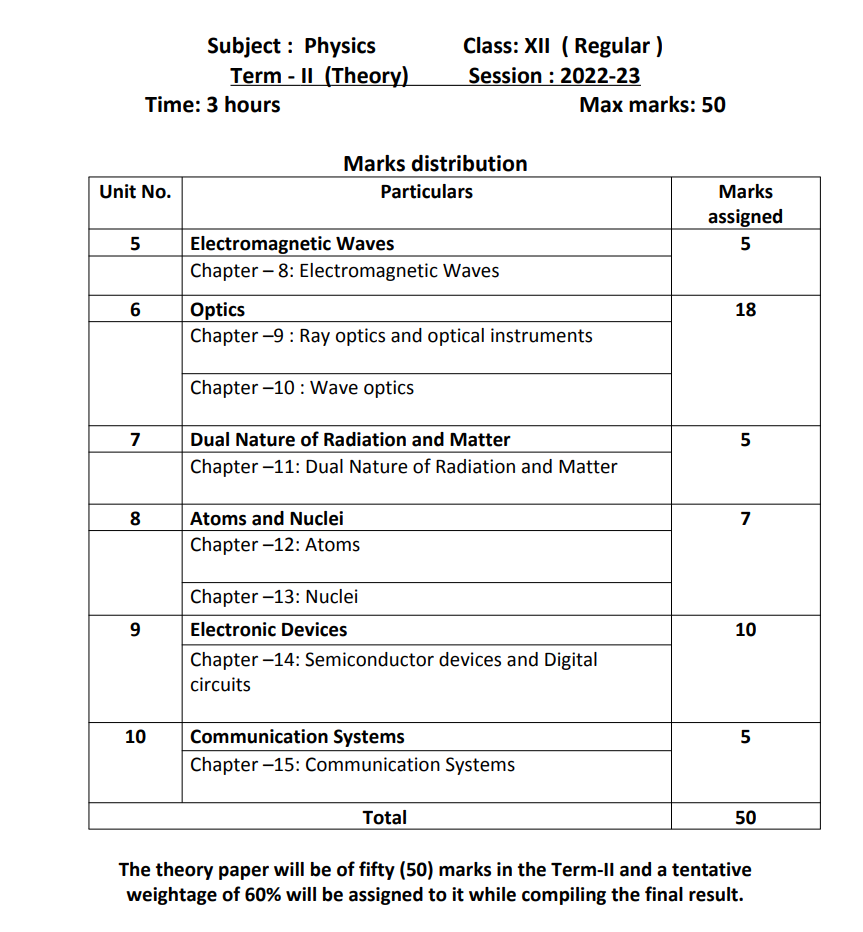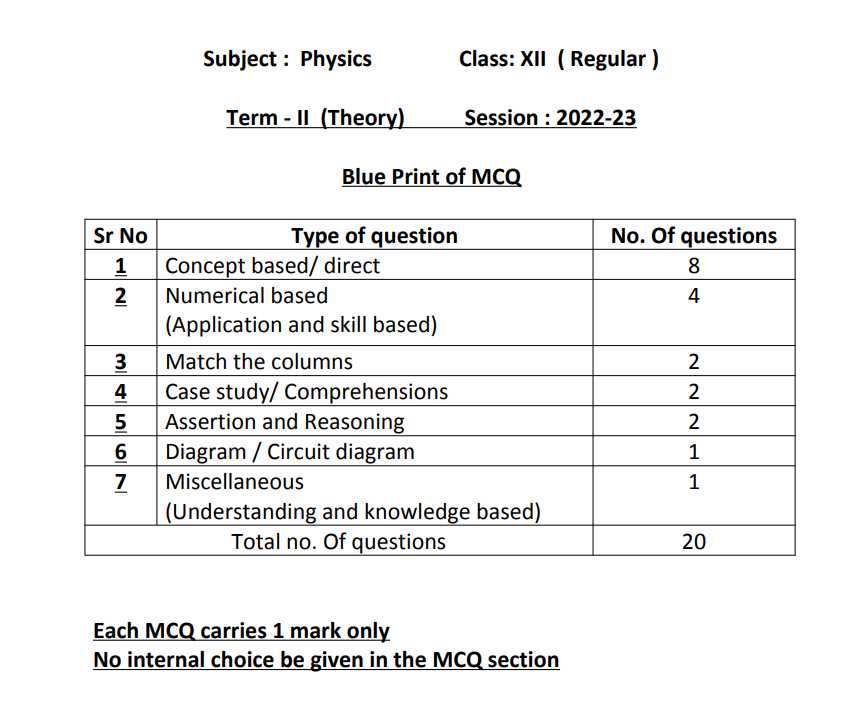 HP Board Class 12 Chemistry Exam Pattern
Class 12 Chemistry's theory paper carries 60 marks, while the practicals are worth 25 and the internal assessments are for 15. Students have 180 minutes to complete the exam and solve the paper, which is divided into 16 units. 
The students preparing for Chemistry practicals should be knowing the syllabus in advane. It will help them to foocus on different topics according to the weightage. Check out the practical exam evaluation scheme below to perform your best: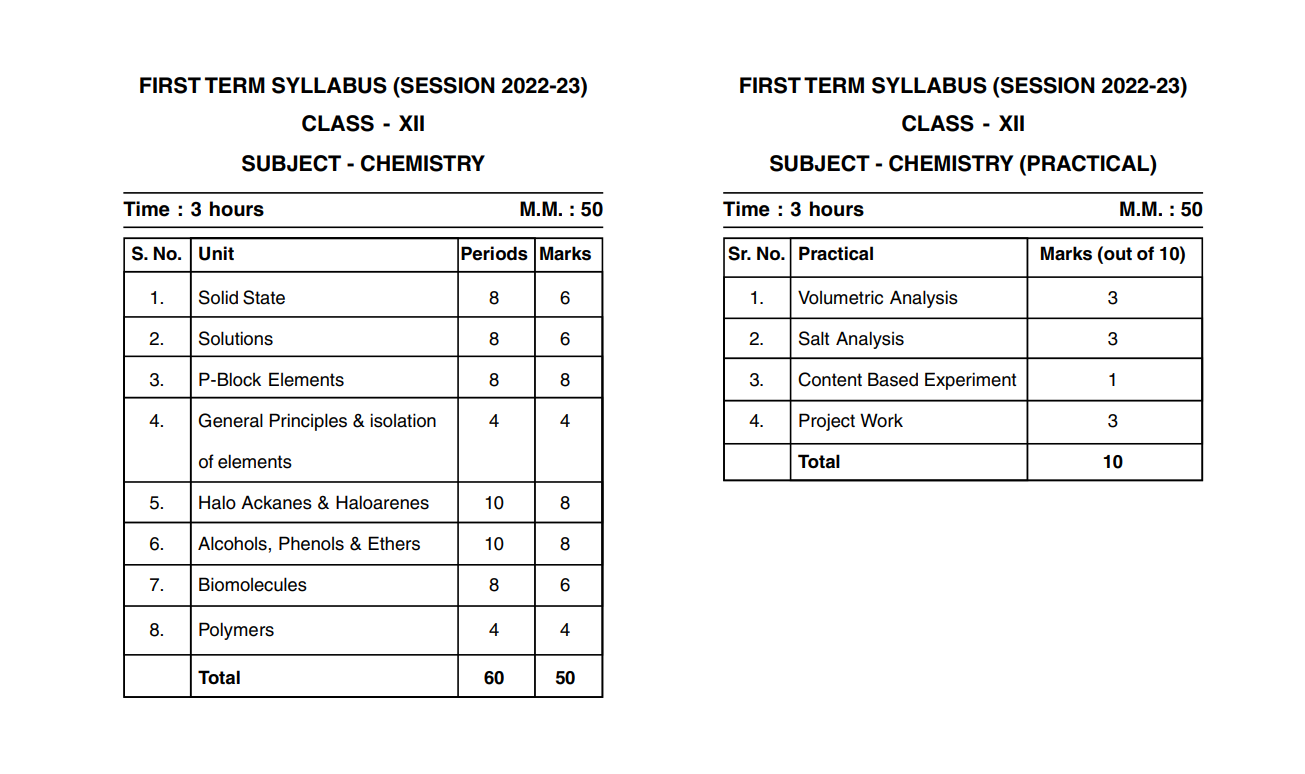 HP Board 12th Computer science Exam Pattern
The theory paper and practical portions of the HPBOSE Exam Pattern for Computer Science 2022& 23 are similarly separated. Each term 1 and term 2's HP board Computer Science theoretical paper will be worth 50 points. For information on the Computer Science course outline and grade distribution, see the tables below. 
HPBOSE 12th Computer Science Marking Scheme 2022-23 (Term1)
Students can focus on different topics in Computer Science and figure out where they lack. According to the marks distribution, they can prepare the topics and score good marks in board exams.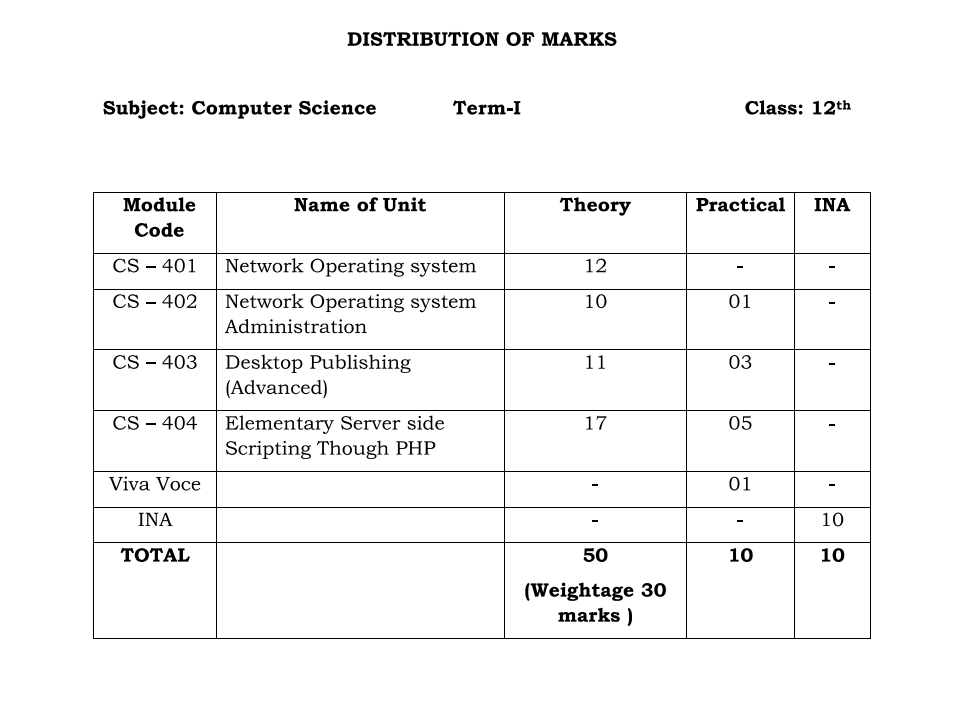 HPBOSE 12th Computer Science Marking Scheme 2022-23 (Term2) 
Both Term 1 and 2 exams are of 50 marks. Term 2 is another chance for students to improve their score. By focusscoresin on half of the syllabus, students can get high marks which can increase their overall score.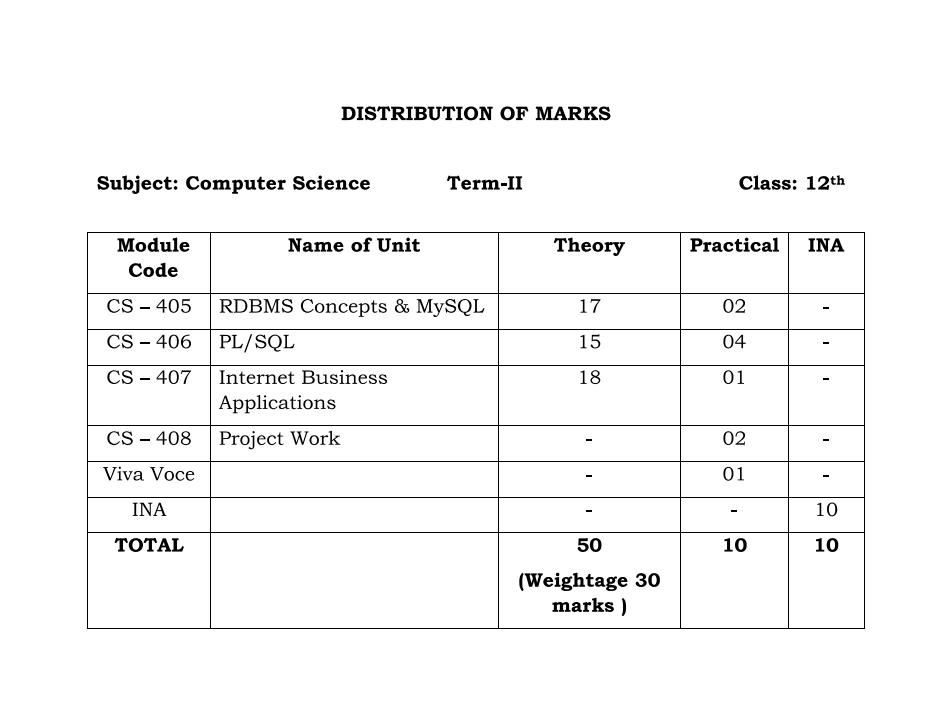 HP Board 12th History Exam Pattern
For the first and second terms of the exams, the HP Board class 12th history curriculum will be worth 50 points each. For the whole HP board 12th History syllabus and a chapter wise marking schedule, see the tables below. 
HPBOSE 12th History Marking Scheme 2022-23 (Term 1)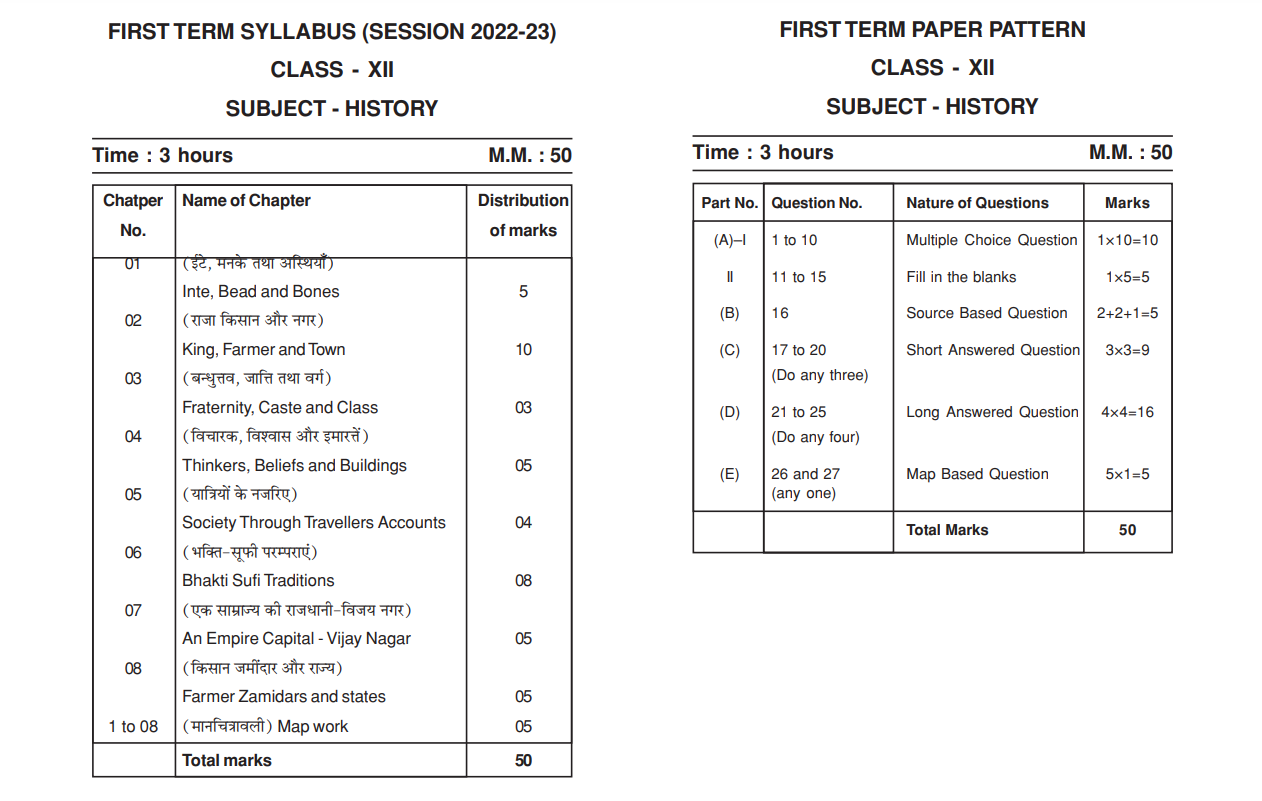 HPBOSE 12th History Marking Scheme Term 2
After knowing the weightage of topics, students can focus on important topics. Among all topics, students can score full marks in maps. All students find it easy to score through maps.