Never Miss an Exam Update
JAC 12th Syllabus 2022-23 Overview
Jharkhand Academic Council (JAC) will publish the JAC Class 12th syllabus in pdf format for the academic year 2022-23. On jac.jharkhand.gov.in and in this page, you may find the JAC 12th syllabus for 2022-23. The official website can be used to download the new Jharkhand board 12 curriculum 2023 for science, arts, commerce, and vocational streams. Students should be familiar with the condensed JAC class 12 curriculum 2023 in order to perform well on board exams.
Science, arts, commerce, and vocational students can utilize the newest JAC 2022-23 syllabus to prioritize the topics they need to study. All schools associated with the Jharkhand Board will use this JAC 12th board 2022-23 syllabus, therefore, students can download the syllabus to prepare for the upcoming exams. Check out the article for a subject-by-subject Jharkhand board 12th curriculum 2022-23 for Science, Chemistry, and Arts, etc.
JAC 12th Board 2023 - Latest Updates
Jan 6, 2023:JAC 12th Exam Date 2023 released.
Jharkhand Board 12th 2022-23 Syllabus Highlights
Students studying for the Jharkhand Board 12th exams can look over the JAC 12th syllabus 2022-23 to see what they should study. JAC 12th exams will be held from March 24 to April 25, 2023, tentatively. Here is the overview of the Jharkhand Board Class 12 Syllabus 2022-23
| | |
| --- | --- |
| Particulars | Details |
| Exam Name | Jharkhand Board Intermediate Examination |
| Exam Level | State |
| Conducting Body | Jharkhand Academic Council (JAC) |
| Mode of Exam | Offline |
| Duration of exam | 3 hours |
Note: Students can download the JAC 12th syllabus 2023 in pdf format from the link below. We've also included a whole syllabus with major subjects that students can study for competitive exams also. 
 JAC 12th Board Syllabus 2022-23 Pdf Download Available.
How to Download JAC Intermediate Syllabus 2022 PDF?
The Department of Education and Ranchi Board have published the latest and subject-wise syllabus for all Hindi Medium, English Medium, and Urdu Medium revised regular and vocational courses on their official website; here we have provided a simple process to download each subject from the following steps.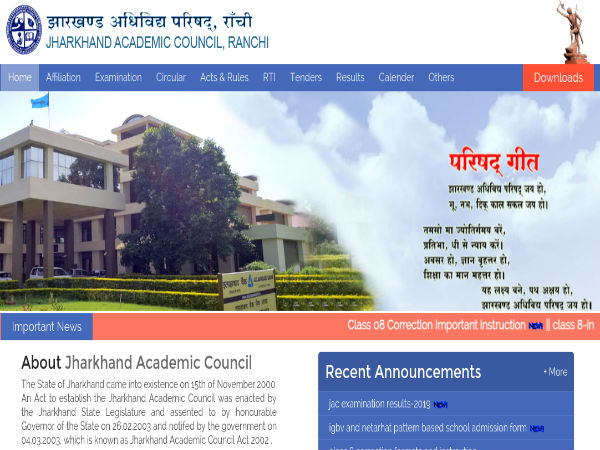 Visit the official website of the Jharkhand board through the following link-jac.jharkhand.gov.in/jac/.
On the official website page, you have to click on the Download option
A new page will be displayed on the screen.
Students can download the syllabus PDF by clicking on the option called "CLICK HERE TO DOWNLOAD SYLLABUS FOR CLASS 09||10 || 11|| 12 ||"
Students must get a printout of the syllabus for future reference as well.
JAC 12th Syllabus 2022-23 for Physics
The NCERT 12th Physics Syllabus is followed by the Jharkhand Board. The chapters that students need to study for the JAC 12th Physics paper 2023 are listed below.
| | |
| --- | --- |
| Chapters (Term 1) | Chapters (Term 2) |
| Electric Charges And Field | Ray Optics And Optical Instruments |
| Electrostatic Potential And Capacitance | Wave Optics |
| Current Electricity | Dual Nature Of Radiation And Matter |
| Moving Charges And Magnetism | Atoms |
| Magnetism And Matter | Nuclei |
| Electromagnetic Induction | Semiconductor Electronics: Materials, Devices, And Simple Circuits |
| Alternating Current | - |
| Electromagnetic Waves | - |
JAC 12th Syllabus 2022-23 for Biology 
The chapters that students need to study for the JAC 12th Syllabus 2022-23 for Biology are listed below:
| | |
| --- | --- |
| Chapters (Term 1) | Chapters (Term 2) |
| Reproduction in Organisms | Evolution |
| Sexual Reproduction in Flowering Plants | Human Health and Disease |
| Human Reproduction | Strategies for Enhancement in Food Reproduction |
| Reproductive Health | Microbes in Human Welfare Solutions |
| Principles of Inheritance and Variation | Biotechnology: Principles and Processes |
| Molecular Basis of Inheritance | Biotechnology and its Applications |
| - | Ecosystems Solutions |
| - | Biodiversity and Conservation |
| - | Environmental Issues |
JAC 12th Syllabus 2022-23 for Chemistry
The topics and chapters for Chemistry that students must prepare under the Jharkhand 12th syllabus 2023 are listed below. To do well in this subject, see NCERT Solutions for Class 12 Chemistry.
| | |
| --- | --- |
| Chapters (Term 1) | Chapters (Term 2) |
| Solid state (5) | Electrochemistry (5) |
| Solutions (5) | Chemical Kinetics (5) |
| Surface Chemistry (4) | p-Block Elements (6) |
| General Principles and Processes (3) | Aldehydes, Ketones, and Carboxylic Acids (6) |
| d- and f-block Elements (5) | Organic Compounds Containing Nitrogen (4) |
| Coordination Compounds (3) | Biomolecules (3) |
| Haloalkanes and Haloarenes (5) | Polymers (3) |
| Alcohols, Phenols, and Ethers (5) | Chemistry in Everyday Life (3) |
JAC 12th History Syllabus 2022-23
Part-1 
The Eight Minds and Status of the Harappan Civilization
Commuters' perspective, their understanding of the society
Bhakti Sufi Traditions Changes in Religious Belief and Texts Around 8th to 18th Century
Peasant landlords and state agricultural societies and the Mughal Empire
Rulers and chronicles Mughal court circa 16th to 17th century
Colonialism and the Countryside Study of Government Records
Colonial City Urbanization City Plan
Part-2
King Peasant and City (Early State and Economy)
Fraternity Caste and Class (Early Society)
Ideological Beliefs and Buildings (Cultural Evolution)
Capital of an empire (Vijayanagara 14th to 16th centuries)
Rebellion and the Raj Movement of 1857 and its lectures
Mahatma Gandhi and the National Movement
Understanding Partition Political Memory Experience
Framing the Constitution
JAC 12th Syllabus 2022-23 for English
Students must demonstrate their reading and writing skills in the final board exams in order to receive good grades in the JAC Class 12th English paper. Reading passages should be chosen at random. To answer the questions related to the passages, students must read the sections thoroughly. The more you practice, the better your writing talents will get. Check JAC 12th Syllabus 2022-23 for English here:
Chapters (Term 1)

Chapters (Term 2)

Reading Comprehension

Reading Comprehension

Note-Making and Summary Writing

Note-Making and Summary Writing

Letters to Editor

Report Writing

Official Letters

Article Writing

Textbook (Flamingo)

Textbook (Flamingo)

The Last Lesson

Indigo

Lost Spring

Poets and Pancakes

Deep Water

The Interview Part-I Part-II

The Rattrap

Going Places

Poetry

Poetry

My Mother At Sixty Six

A Thing Of Beauty

An Elementary School Classroom In A Slum

A Road Side Stand

Keeping Quiet

Aunt Jennifer's Tigers

Text Book (Vistas)

Text Book (Vistas)

The Third Level

Should Wizard Hit Mommy

The Tiger King

On The Face Of It

Journey To The End Of The Earth

Evans Tries An O-Level

The Enemy

Memories Of Childhood

i) The Cutting of My Long Hair ii) We Too Are Human Beings
JAC 12th Syllabus 2022-23 for Mathematics
The chapters of the Jharkhand 12th Mathematics syllabus are shown below, and students must answer various types of questions on the specified topics.
| | |
| --- | --- |
| Chapters (Term 1) | Chapters (Term 2) |
| Relations and Functions | Integrals |
| Inverse Trigonometric Functions | Application of Integrals |
| Matrices | Differential Equations |
| Determinants | Vector Algebra |
| Continuity and Differentiability | Three Dimensional Geometry |
| Application of Derivatives | Linear Programming |
| - | Probability |
JAC 12th Syllabus 2022-23 for Political Science
Term 1
The Cold War Era
The End of Bipolarity
US Hegemony in World Politics
Alternative Centres of Power
Contemporary South Asia
Challenges of Nation Building
The era of One-Party Dominance
Politics of Planned Development
India's External Relations
Term 2
International Organisations
Security in the Contemporary World
Environment and Natural Resources
Globalization
Challenge to and Restoration of the Congress System
Crisis of the Democratic Order
Rise of Popular Movements
Regional Aspirations
Recent Developments in Indian Politics
How to Prepare for JAC 12th Board Exams 2022-23?
Prepare all topics from the JAC 12th Syllabus 2022-23 one or two months before the examinations begin. Students will have adequate time to revise if the syllabus is completed ahead of schedule.
Examine previous JAC 12th question papers to learn about the marking method, relevant themes, and types of questions that were asked. These questions and answers can be used as practice papers. Solving these practice papers will help boost your self-assurance.
Important equations and facts should be written down in concise notes. These brief notes will facilitate and speed up the revision process.
Revise the covered material on a regular basis to help you recall the details for a longer period of time, which will help you score higher in the JAC intermediate result 2022.
Check out the details of the JAC 12th Syllabus 2022-23 given above and prepare yourself for the exam accordingly!