Never Miss an Exam Update
HBSE 10th Exam Pattern 2022-23 has been issued by the Haryana Board of School Education (HBSE). For the academic year 2022–2023, HBSE has also decreased the Haryana Board class 10 syllabus by 30%. The updated curriculum is accessible on the board's official website. The exam format for the HBSE class 10 has also been changed, per the amended syllabus. The HBSE Class 10th Board Exams will be held in March 2022–2023 at the earliest.
For pupils to succeed in the board exams, it is crucial that they review the most recent HBSE 10th Exam Pattern, along with the HBSE 10th Syllabus 2022-23. The exam pattern will aid students in understanding the key subjects covered in the exam, the difficulty level of the questions, the scoring system, and much more. Before beginning their test preparations, students must be familiar with the latest Haryana Board Class 10 exam pattern in order to get the desired results.
HBSE Board Latest Updates 2023
HBSE 10th Exam Pattern 2022-23 Highlights
The highlights of the HBSE Exam are as follows:
| | |
| --- | --- |
| Name of Exam | HBSE Class 10th Board Examination |
| Exam Conducting Body | Board of School Education Haryana (BSEH) |
| Category | HBSE Class 10th Exam Pattern |
| Exam Level | Matriculate |
| Mode of Exam | Offline |
| Exam Duration | 2.5 Hours |
| Official Site | bseh.org.in |
HBSE 10th Exam Pattern 2022-23 - List of Subjects
The HBSE Class 10 Board Exam is held for the five core courses viz. Hindi, English, Social Science, and Mathematics as well as any one of the students' choice of the optional topics. Below is a list of the optional subjects.
Optional subjects of HBSE Class 10 Board:
A third language (anything other than Sanskrit, Punjabi, or Urdu)
Animal Husbandry
Home Science
Agriculture
Drawing
Dance
Music
Computer Science
Physical and Health Education
The following disciplines are also available to students as optional electives. The following list of topics is provided:
ITES 
Patient Care Assistance
Agri-Paddy Farming 
Tourism-Hospitality-Travel
Retail Industry Business
Beauty and Wellness 
Physical Education and Sports 
Media Animation
Banking & Finance Services
Banking Insurance
Apparel Designing 
Vision Technician
Automobile 
Also Check HBSE 10th Date Sheet 2023 - Haryana Board Class 10th Exam Date
HBSE Class 10 Board Exam Pattern 2022-23
The HBSE Class 10 Board Exam Pattern 2022-23 is discussed in full, including the allocation of total and theoretical, practical, ongoing, and comprehensive assessment marks by topic. The HBSE Class 10 Board Exam will be administered offline by HBSE. Each exam will last three hours. The HBSE Class 10 Board Exam will be held in 2022-23 and cover the five required courses in addition to one optional subject of the student's choice.
Name of the subject

Maximum Marks in theory

Maximum Marks in practical

CCE

Total Marks

Hindi (First Language)

80

—–

20

100

English (Second Language)

80

—–

20

100

Mathematics

80

—–

20

100

Social Science

80

—–

20

100

Science

60

20

20

100

Anyone of the following :

A) Third Language (anyone out of Sanskrit/ Punjabi/ Urdu)

80

—

20

100

B) Home Science

60

20

20

100

C) Agriculture

60

20

20

100

D) Animal Husbandry

60

20

20

100

E) Drawing

60

20

20

100

F) Music

20

60

20

100

G) Dance

20

60

20

100

H) Physical and Health Education

60

20

20

100

I) Computer Science

0

40

20

100

J) Any one of the following subject :

ITES,
Automobile
Security Services,
Retail Industry Business
Beauty and Wellness
Physical Education and Sports
Patient Care Assistance
Agri-Paddy Farming
Tourism-Hospitality-Travel
Media-Animation
Banking & Finance Services
Banking Insurance
Apparel Designing
Vision Technician

30

50

20

100
HBSE Class 10 Science Paper Pattern
Below is the HBSE 10th paper pattern for Science subject:
Marks for Each Question

05 marks

03 marks

02 marks

01 marks

Number of Questions

03

03

03

30

Marks Allotted

15

09

06

30

Total Time

2.5 Hrs
HBSE Class 10 English Paper Pattern 
The exam pattern for HBSE Class 10 English subject has been depicted in the images given below: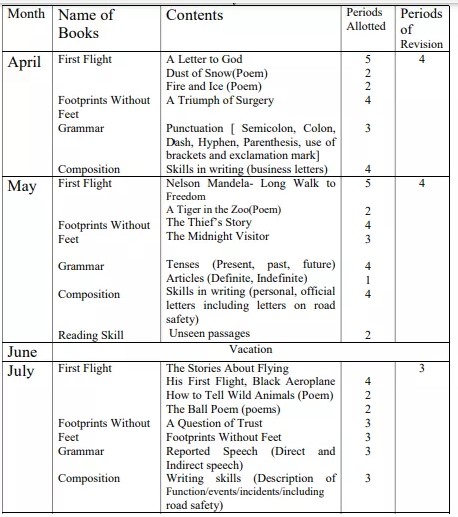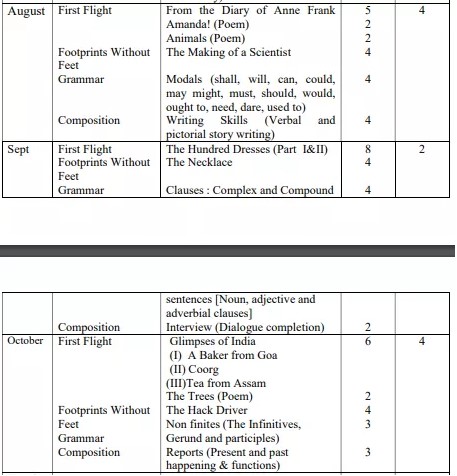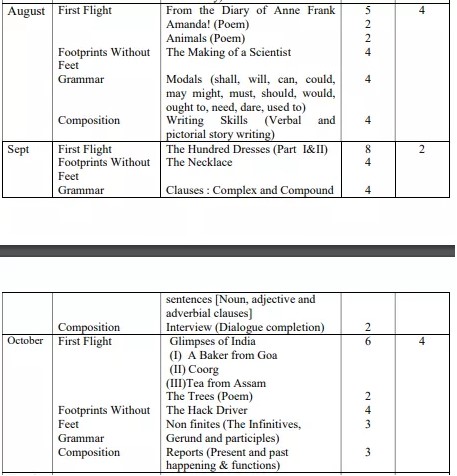 Below is the HBSE 10th paper pattern for English subject:
Question

Essay Type (E)

Short Answer (SA)

Very Short Answer (VSA)

Objective

Marks for Each Question

05 marks

03 marks

02 marks

01 marks

Number of Questions

03

05

05

40

Marks Allotted

15

15

10

40

Total Time

2.5 Hrs
HBSE Class 10 Mathematics Paper Pattern
Below is the HBSE 10th paper pattern for Mathematics subject:
Type of Question

Essay Type (E)

Short Answer (SA)

Very Short Answer (VSA)

Marks for Each Question

05 marks

03 marks

02 marks

Number of Questions

03

03

03

Marks Allotted

15

09

06

Total Time

2.5 Hrs
HBSE Class 10 Social Science Paper Pattern
Below is the HBSE 10th paper pattern for Social Science subject:
Type of Question

Essay Type (E)

Short Answer (SA)

Very Short Answer (VSA)

Marks for Each Question

05 marks

03 marks

02 marks

Number of Questions

04

04

04

Marks Allotted

20

12

08

Total Time

2.5 Hrs
Also Check Haryana HBSE Class 10 Previous Year Question Paper PDFs
Haryana Class 10 Result 2022 Grading System
Haryana Board 10th Result 2022–23 will be released in accordance with the recently announced grade system in an effort to lessen the exam-related stress on students and to build a contemporary assessment system for the students. The class 10 result grading scale for the HBSE will range from A+ Grade, the highest grade a student may earn with 100% of the marks, to 90% of the marks. The lowest grade, on the other hand, is Grade E, which is given to students who achieve less than 20% of the total marks. Below are all of the details regarding the Haryana Board Class 10 Result 2022–23 Grading System:
| | | | |
| --- | --- | --- | --- |
| Percentage | Grade Value | Grade Position | Grade |
| 90% to 100% | 9 | Outstanding | A+ |
| 80% to 89% | 8 | Excellent | A |
| 70% to 79% | 7 | Very Good | B+ |
| 60% to 69% | 6 | Good | B |
| 50% to 59% | 5 | Above Average | C+ |
| 40% to 49% | 4 | Average | C |
| 30% to 39% | 3 | Marginal | D+ |
| 20% to 29% | 2 | Need Improvement | D |
| Below 20% | 1 | Need Improvement | E |