CBSE Class 12 Physics Syllabus 2022-23: Central Board of Secondary Education (CBSE) has released the curriculum for the academic year 2022-2023 on its official website. CBSE 2022-2023 curriculum addresses the Syllabus of subjects, examination pattern, Scheme of Exam, etc. In this section, we have made our efforts to bring forward the  CBSE class 12 physics syllabus 2022-23 in a comprehensive manner. Please read this article to get a perfect view of CBSE Class 12 Physics Syllabus for 2022-2023.
Physics is that part of science which deals with the physical phenomenon. This integral branch of science develop the analytical skills and reasoning abilities of the students. Its academic importance makes it one of the most contributory subject in higher educational entrance exams like JEE Mains, NEET, etc. So to prepare this subject well, it is important for the students to learn about the CBSE class 12 physics syllabus 2022-23 and the scheme of examination. After acquiring the very knowledge about the  CBSE class 12 physics syllabus 2022-23, Students will be able to study the subject specific topics and ultimately score brilliantly in the CBSE Board Exams 2023.
To read about the CBSE Class 12 complete syllabus: Click here
CBSE Class 12 Physics Syllabus 2022-23
CBSE class 12 physics syllabus 2022-23 has been released by the Central Board of Secondary Education on its official website. The Board made it very clear that there are no changes in the CBSE class 12 physics syllabus 2022-23 and it is basically similar to the Physics syllabus for the year 2021-2022. No addition or reduction has been done in the Physics syllabus. The Scheme of the Examination is also the same as that of 2021-2022. A theoritical exam would be conducted on 70 marks and a practical examination, which includes two experiments, accounts for the 30 marks.
Click here to download the Physics Syllabus for 2022-2023 PDF
Read the CBSE class 12 physics syllabus 2022-23 in depth in the article given below:
Unit I. Electrostatics 
Topic 1. Electric Charges and Fields 
Electric Charge: Conservation of charge
Coulomb's law: Force between two-point charges; forces between multiple charges; Principle of superposition; continuous charge distribution
Electric field because of a point charge; Lines of Electric field; 
Electric Dipole: Electric field due to a dipole, Dipole moment
Electric flux: Gauss's theorem and its applications
Topic 2: Electrostatic Potential and Capacitance 
Electric Potential: Potential difference; Electric Potential due to a point charge, a dipole and system of charges; Electrical potential energy of a system having two point charges and of electric dipole in an electrostatic field; Equipotential surfaces 
Conductors and insulators; Free and bound charges
Dielectrics and Electric polarization
Electric Capacitors and capacitance; Combination of capacitors in series and in parallel; Capacitance of a parallel plate capacitor with and without dielectric medium; energy stored in a capacitor. 
Unit II: Current Electricity 
Topic 3. Current Electricity 
Electric current; Flow of electric charge in a metallic conductor; Drift velocity; Mobility of electrons;
Ohm's law:  Electrical resistance; V-I characteristics (linear and nonlinear); Electrical energy and Power, Electrical resistivity and conductivity; Effects of temperature on resistance; 
EMF: Internal resistance of a cell, potential difference, Combination of cells in series and in parallel; Kirchhoff's laws and its applications, Wheatstone bridge, Meter Gauge(qualitative approach); Potentiometer - principle and its applications to measure potential difference
Unit III: Magnetic Effects of Current and Magnetism 
Topic 4. Moving Charges and Magnetism 
Magnetic field: Oersted's experiment; Biot - Savart law and its application; Ampere's law and its applications
Straight and toroidal solenoids (qualitative approach)
Force acting on a moving charge in uniform electric and magnetic fields; Force acting on a current-carrying conductor in a uniform magnetic field; Force between two parallel current-carrying conductors; definition of the ampere
Torque experienced by a current loop in the uniform magnetic field; moving coil galvanometer- sensitivity and conversion to ammeter and voltmeter. 
Topic 5. Magnetism and Matter 
Magnetic Dipole: Magnetic dipole moment of current carrying loop; magnetic dipole moment of a revolving electron; Bar magnet as an equivalent solenoid; Magnetic field lines; Earth's magnetic field and Magnetic Elements. 
Unit IV: Electromagnetic Induction and Alternating Currents  
Topic 6. Electromagnetic Induction 
EMI: Faraday's law of EMI; Induced EMF and current; Lenz's Law; Eddy currents
Topic 7.  Alternating Current 
Alternating current: VRMS; RMS value of alternating current; Impedance; Reactance; LC & LCR series circuit; Resonance; Power in AC circuits; AC generator and transformer.
Unit V: Electromagnetic waves  
Topic 8. Electromagnetic Waves 
Electromagnetic waves: Characteristics; Transverse nature; Electromagnetic spectrum and their uses in distinct fields
Unit VI: Optics   
Topic 9. Ray Optics and Optical Instruments 
Ray Optics: Refraction; TIR and its application; Optical fibers; Refraction at spherical surfaces
Lenses: Lens formula, Lensmaker's formula, Magnification of an object; Power of a lens; Combination of thin lenses
Prism: Refraction of light through a prism
Optical instruments: Microscope; Astronomical telescope; Power of Magnification
Topic 10. Wave Optics 
Wave optics: Wavefront and Huygens principle; Reflection and Refraction of waves on a plane surface(Wave front method); Laws of reflection and refraction using Huygens principle; 
Interference of light: Superposition of waves; Young's double slit experiment and expression for fringe width; Conditions for interference; coherent sources and sustained interference of light
Diffraction due to a single slit; Central maxima; minima at the edges
Unit VII: Dual Nature of Radiation and Matter
Topic 11. Dual Nature of Radiation and Matter 
Dual nature of light: Photoelectric effect; Hertz and Lenard's observations; Einstein's photoelectric equation; particle nature of light; Experimental study of photoelectric effect
Matter waves: Wave nature of particles, de-Broglie wavelength; relation between de-Broglie wavelength & momentum
Unit VIII: Atoms and Nuclei     
Topic 12. Atoms 
α-Scattering experiment; Rutherford's atomic model; Bohr atomic model; energy levels in an atom; hydrogen spectrum
Topic13. Nuclei 
Atomic Nuclei: Composition and size; Nuclear force; Binding Energy; Mass-energy equivalence; Mass defect
Nuclear reactions: Nuclear fission & Nuclear fusion; Nuclear Reactor; Nuclear Holocaust
Unit IX: Electronic Devices  
Topic 14. Semiconductors
Energy bands in conductors; Semiconductors and Insulators
P-N Junction; Semiconductor (Diode forward and reverse bias); Avalanche Breakdown; Rectifier; Transistor
P-N Junction diodes: LED, photodiode, solar cell. 
CBSE Class 12 Physics Examination Pattern
The Image given below will make the weightage of the subject and Scheme of examination clear to the students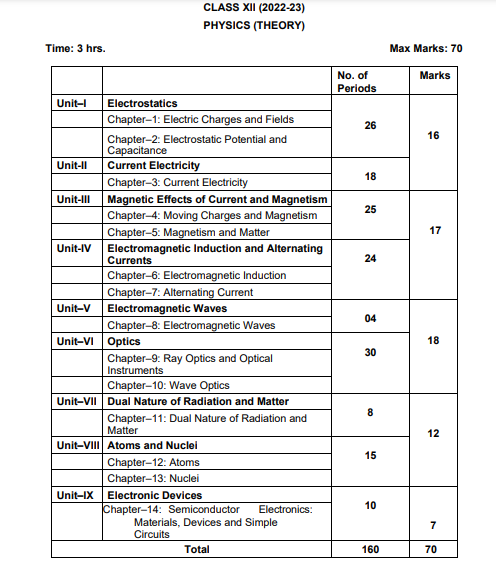 To check CBSE Physics Board previous year question papers: Click here
CBSE Class 12 Physics Syllabus PDF 2022-2023
Students can also download the PDF of CBSE Class 12 Physics Syllabus 2022-2023. The PDF comprises the detailed Physics syllabus for class XI & XII, including the practical assessment syllabus, evaluation Scheme, name of the experiments to be conducted, Practical Activities to be done in Class XI & XII, etc. Click here to download the PDF